Deur Dik en Dun Teasers – November Episodes 2020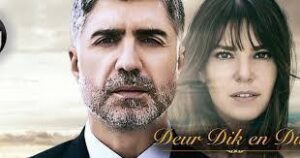 Coming up on Deur Dik en Dun this November 2020:
Monday 2 November 2020
Episode 86
Osman ambushes Esma as she's having dinner to get to know Burcu, determined that she and Garip need to talk it out. And during all of this, who's looking after baby Ada?
Tuesday 3 November 2020
Episode 87
A disastrous meeting between the Borans and Adem and Garip unfolds. Esma makes a huge discovery about a secret of Osman's that could destroy the family dynamics.
Wednesday 4 November 2020
Episode 88
Begum let's Faruk know of her budding relationship, which causes Faruk some serious conflict. Esma heeds a grave warning to Ipek in order to get her to change her ways and finally make up with Osman.
Thursday 5 November 2020
Episode 89
Can Faruk get over his jealousy enough to have a decent dinner with Begum and her new boyfriend? And how will he react when he learns who it is?
Friday 6 November 2020
Episode 90
Begum reveals her new boyfriend to Faruk and Sureyya. Dilara makes a shocking discovery uncovering one of Adem's lies.
---
Monday 9 November 2020
Episode 91
Faruk isn't too pleased when he finds out that Can is Begum's new boyfriend and confronts him in the men's bathroom. Could this confrontation lead to something violent?
Tuesday 10 November 2020
Episode 92
Will Adem keep his promise to Dilara and actually go to therapy? And is Begum willing to carry on dating Can at the risk of losing her son?
Wednesday 11 November 2020
Episode 93
Faruk's issues with Can become a serious issue for him. Esma and Garip have a meeting to determine the future of their families and the Borans meet Burcu.
Thursday 12 November 2020
Episode 94
There's major fallout from the fight between Can and Faruk. Sureyya feels uneasy after discovering some troubling information.
Friday 13 November 2020
Episode 95
Can's words haunt Sureyya's mind and she decides to bust Faruk at the camp. Meanwhile, Kiymet and Esma try to get Fikret and Ipek to spend some alone time together.
---
Monday 16 November 2020
Episode 96
Esma has had it with Sureyya's shenanigens and tries one more time to get through to her. Meanwhile, while helping Reyhan move Kiymet finds some interesting letters…
Tuesday 17 November 2020
Episode 97
Begum starts to open communication between Can and Emir, but how will Faruk take the news when he finds out?
Wednesday 18 November 2020
Episode 98
Fikret and Faruk receive a disturbing message from an unknown foe, which threatens to unravel the family altogether.
Thursday 19 November 2020
Episode 99
Ipek and Kiymet find some details about Fevzi's past in Reyhan's new house. Sureyya discovers Can's past but what will she do when she discovers the truth about him?
Friday 20 November 2020
Episode 100
It's the night of the party and there's trouble in the Boran household after Ipek reveals a secret to Burcu.
---
Monday 23 November 2020
Episode 101
The Boran brothers decide to have a boy's night out and things get a little rough. Esma spends the night with Garip and Adem feels betrayed.
Tuesday 24 November 2020
Episode 102
Garip makes a difficult decision for both himself and Esma. Sureyya receives shocking news about Can. Will Faruk find out?
Wednesday 25 November 2020
Episode 103
Sureyya struggles to keep her troubled thoughts from Faruk. And can Can convince Figen he really loves Begum?
Thursday 26 November 2020
Episode 104
Esma reveals a shocking truth about Adem and the New Year's celebrations kick off but will having all of the Boran family and friends together go on without a hitch?
Friday 27 November 2020
Episode 105
Sureyya and Faruk kick off the New Year with high spirits, but not everyone's year is off to a great start.
---
Monday 30 November 2020
Episode 106
Ipek worries about the growing bond that seems to be forming between Esma and Sureyya.
---
Premiere episodes of Deur Dik and Dun air on e.tv and eExtra from Mondays to Fridays at 17h30 and 20h00.