Deur Dik en Dun Teasers – December 2020 Episodes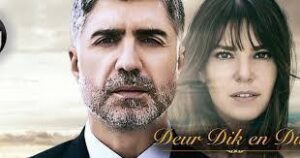 Tuesday 1 December 2020
Episode 107
Sureyya is acting more and more strange, will she tell Faruk what's bothering her? Osman, prepared to end things with Burcu, gets a bit more than he bargained for.
Wednesday 2 December 2020
Episode 108
Esma receives a letter that threatens to ruin her life, Faruk's investigation leads him right back home and Garip and Esma have to choose whether or not they continue their relationship.
Thursday 3 December 2020
Episode 109
Esma and Reyhan are rushed to hospital, their conditions unknown. The family tries to process what happened.
Friday 4 December 2020
Episode 110
Faruk doesn't believe that his mother's telling him the truth about the fire. He does his own investigating with Akif's help. Dilara and Sureyya have a heart to heart.
---
Monday 7 December 2020
Episode 111
Senem and Sureyya both take pregnancy tests but which one of them will turn up positive? Esma has to finally come clean to Faruk.
Tuesday 8 December 2020
Episode 112
We see the results of the pregnancy tests. Meanwhile Adem needs to come to grips with his relationship with his mother.
Wednesday 9 December 2020
Episode 113
Esma tells the boys about her and Garip, with unfortunate and destructive results. Esma contemplates her fate.
Thursday 10 December 2020
Episode 114
The Boran brothers try to process the news about Esma and Garip's relationship, each in their own way. Faruk and Sureyya reminisce about the earlier days of their relationship.
Friday 11 December 2020
Episode 115
Fikret and Adem recruit some surprising help to create a deal that threatens to turn the whole family on it's head. Esma tells Osman she knows his secret, which threatens to destroy their relationship forever.
---
Monday 14 December 2020
Episode 116
Now that it's been revealed that Adem is on the board of directors, thanks to Fikret, how will the rest of the Boran household take it? And can Akif handle the heat?
Tuesday 15 December 2020
Episode 117
Osman explains to Esma why he's moving out of the house. Akif and Senem have their engagement party with Suyreyya, Faruk and Dilara.
Wednesday 16 December 2020
Episode 118
Adem and Faruk run into each other at dinner, can they keep it civil or will there be more fighting? Someone outside of the Boran family reciveve devastating news.
Thursday 17 December 2020
Episode 119
Fikret makes a heartbreaking decision for himself and Ada. Osman, on the other hand, asks Burcu an important question.
Friday 18 December 2020
Episode 120
Begum confronts Sureyya about Can. Faruk makes a surprising arrangement with Adem and Garip recieves a surprise guest from his past.
---
Monday 21 December 2020
Episode 121
It's Valentine's Day but not everyone's feeling excited. Esma invites Burcu's family over for coffee to discuss the engagement party. But can Esma get along with Garip's ex-wife, Siren?
Tuesday 22 December 2020
Episode 122
Adem's luck takes a turn for the worst and Fauk swears it had nothing to do with him. Meanwhile, old and new values clash as Esma arranges an outing for the new bride to be.
Wednesday 23 December 2020
Episode 123
Ipek goes for the jugular in her quest against Esra. Esma's traditional ways clash with Siren and Bade has to make a choice that will change the rest of her life.
Thursday 24 December 2020
Episode 124
Esma delivers devastating news to Akif, meanwhile Bade has an answer for Murat.
Friday 25 December 2020
Episode 125
Akif sees Senem in a new light after hearing the truth from Esma. Could this one mistake lead to the end of their relationship? And has Esra accepted Fikret's feelings?
---
Monday 28 December 2020
Episode 126
Faruk and Sureyya rush to Begum's aid but are they already too late? Dilara makes a defining statement against Adem and Senem tells Akif the secret that's controlled her life.
Tuesday 29 December 2020
Episode 127
Emir struggles to come to terms with his mother's death, Ipek reveals the truth behind Esma to Sureyya and Kiymet tells Adem the "truth" about Reyhan's arrest.
Wednesday 30 December 2020
Episode 128
Can sets his sights on a new target. Bade breaks the news to Nurgul about her engagement and there might still be hope for Senem and Akif's relationship.
Thursday 31 December 2020
Episode 129
Tensions only continue to rise in the Boran household, will it all come to a head when Esma calls the family together?
---
Premiere episodes of Deur Dik and Dun air on e.tv and eExtra from Mondays to Fridays at 17h30 and 19h35.