Deur Dik en Dun 2 Teasers – January 2021  Full Episodes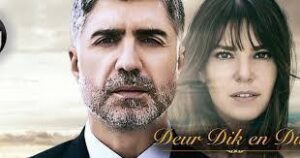 Friday 1 January 2021
Episode 40
Faruk and Sureyya don't get a chance to celebrate the good news when Dilara receives a major document and Faruk makes connections with Adem's past.
---
Monday 4 January 2021
Episode 41
Ipek makes a last-ditch effort in order to save her relationship with Fikret, by throwing him a surprise birthday party. Adem realises what his biggest issue is with the Idil's help.
Tuesday 5 January 2021
Episode 42
Ipek finally puts her plan in motion and Murat makes a decision that only drives a wedge further between him and the family.
Wednesday 6 January 2021
Episode 43
Nurgul questions whether or not she still has a place in the house. Fikret desperately tries to get to his daughter and Adem and Can put the next stage of their plan into action.
Thursday 7 January 2021
Episode 44
Esma makes a shocking decision about her relationship with Garip. Adem gets a visit from an old friend and can Bade handle the pressure of being a bride of the Boran mansion?
Friday 8 January 2021
Episode 45
Adem gets an unexpected, and dangerous visitor. Ipek, meanwhile, unravels as she hires someone to do her dirty work.
---
Monday 11 January 2021
Episode 46
Adem struggles to come to terms with the secret. Garip is rushed to hospital and Esra comes face to face with her past.
Tuesday 12 January 2021
Episode 47
Esra confesses some important information to Fikret about Erhan. Adem continues to spiral.
Wednesday 13 January 2021
Episode 48
Akif gets kidnapped. Fikret runs into Ipek (and Ada) and hands her the divorce papers. Will Ipek finally accept the fate of their relationship? And who's the surprise guest at Senem's bachelorette party?
Thursday 14 January 2021
Episode 49
Adem confronts Reyhan about the letters and finally confronts his past. Senem and Akif's big day is upon them but will it go over without a hitch?
Friday 15 January 2021
Episode 50
Things get messy at Akif's and Senem's wedding. Burcu gets really drunk and her true feelings towards Sureyya and Osman come out. Dilara's torn when she hears about Adem's "accident".
---
Monday 18 January 2021
Episode 51
Ipek takes drastic measures to get rid of Esra for good, will it work? Murat begins his first day working for his brothers.
Tuesday 19 January 2021
Episode 52
Esra plans on leaving with her brother after Ipek's visit, however things take a different turn with Fikret. Emir and Sureyya have a surprising encounter.
Wednesday 20 January 2021
Episode 53
Dilara finally gives Sureyya a large dose of reality. Reyhan's last hopes for Adem are dashed and Esma is forced to question her true place in the mansion.
Thursday 21 January 2021
Episode 54
Surreya starts to question how much of herself she's lost to her marriage and Fikret tracks down Esra to demand some answers from her.
Friday 22 January 2021
Episode 55
Ipek panics after Ada's fever spikes out of control, and Reyhan manages to escape from the mental ward.
---
Monday 25 January 2021
Episode 56
Garip and Esma finally go away together but, as Fikret and Ipek recieve some terrible news, how will her absence affect the family?
Tuesday 26 January 2021
Episode 57
Fikret and Ipek struggle with the news, meanwhile Esma receives even more bad news when she finds out about Osman's plan.
Wednesday 27 January 2021
Episode 58
Esma lures Osman to the house to spring his surprise on the family, Faruk has to face his insecurities and Fikret and Ipek come together over their daughter.
Thursday 28 January 2021
Episode 59
Adem desperately searches for Reyhan but as Reyhan's plan begins to come together, Sureyya and Faruk find themselves in grave danger.
Friday 29 January 2021
Episode 60
The family plans to come together after the close call with Reyhan, but can they convince Osman to join them? Sureyya makes a decision that may cause more upset in the family.
---
Premiere episodes of Deur Dik and Dun air on e.tv and eExtra from Mondays to Fridays at 17h30 and 19h35.