Deur Dik en Dun 2 Teasers – February 2021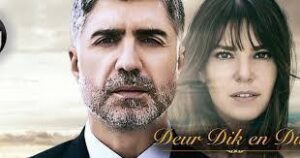 Monday 1 February 2021
Episode 61
Adem begins to get closer to the family but will he finally be able to let his guard down? Kiymet begins taking the community away from Esma.
Tuesday 2 February 2021
Episode 62
Adem discovers what it means to be part of a family. Burcu remembers what happened when she was drunk and Can has a surprising announcement for Emir.
Wednesday 3 February 2021
Episode 63
Adem has finally come to a point where he feels happy about his life, but will that happiness be shattered when Halim reveals the truth? The Boran household hopes for some good news.
Thursday 4 February 2021
Episode 64
Adem throws a dinner party to celebrate Sureyya's pregnancy and Ada's recovery, however Dilara reveals some exciting news that doesn't go down well.
Friday 5 February 2021
Episode 65
Ipek discovers a secret that could destroy all of the progress the family has made, Sureyya questions her relationship with Faruk and Can has some big news for Emir.
---
Monday 8 February 2021
Episode 66
Can says his final goodbyes, Ipek and Adem make a deal and some difficult truths come to light.
Tuesday 9 February 2021
Episode 67
Osman works on winning back Burcu. Sureyya grapples with the truth about Faruk leading her to question the nature of their relationship from the beginning.
Wednesday 10 February 2021
Episode 68
Faruk and Sureyya are left in a tense place, but will the video ruin another relationship? Sureyya tells Senem the truth about Akif and Murat has an announcement.
Thursday 11 February 2021
Episode 69
Faruk tells Adem the truth about his past intentions, with ferocious results. Adem, meanwhile, reveals his plan to Reyhan.
Friday 12 February 2021
Episode 70
Adem reels with his revelation, Esma has a major proposition for Burcu and Ipek's plan begins to come together.
---
Monday 15 February 2021
Episode 71
Adem makes a shocking decision and Fikret has some choices to make as well. And how will he react when he runs into Esra?
Tuesday 16 February 2021
Episode 72
Sureyya and Esma clash.
Wednesday 17 February 2021
Episode 73
As FIkret prepares for the big launch, Faruk tries and fails to squash the problems with Adem. The launch goes over without a hitch but when Faruk is still not there hours in, Sureyya starts to worry.
Thursday 18 February 2021
Episode 74
The Boran mansion is in turmoil as the search for Faruk continues. Blame goes around as secrets and true feelings are revealed. Could this incident ruin many relationships?
Friday 19 February 2021
Episode 75
Mother's Day is the last thing on everyone's mind as the search for Faruk continues. But could things brighten up once Adem reveals Faruk's location or is this part of his plan?
---
Monday 22 February 2021
Episode 76
Faruk recieves a visit from a past he's tired to keep hidden. Fikret takes over operations at BoranJet and Adem's plan enters its second phase.
Tuesday 23 February 2021
Episode 77
Gozde drops by the Boran Mansion to see a recovering Faruk. Senem suspects Akif of cheating. Siren introduces the Boran's to her new husband.
Wednesday 24 February 2021
Episode 78
Senem begins investigating Akif, the Borans are introduced to Siren's new husband and Adem has a huge surprise for Dilara.
Thursday 25 February 2021
Episode 79
Sureyya confronts Faruk about Gozde, Senem destroys her home with Akif and Adem enters the next phase of his grand plan.
Friday 26 February 2021
Episode 80
Sureyya struggles to come to terms with what Faruk has done. Fikret meets with Gozde. Faruk tries to make things right.
---
Premiere episodes of Deur Dik and Dun air on e.tv and eExtra from Mondays to Fridays at 17h30 and 21h30.