Deur Dik en Dun 2 Teasers – April 2021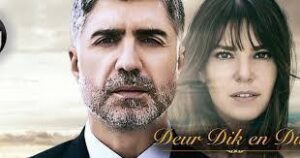 We (keportal Team) pleased to inform you about Deur Dik en Dun 2 Teasers – April 2021
Monday 1 March 2021
Episode 81
Will Gulistan tell Esma what's been burdening her? Will Sureya forgive Faruk? The preparations for Osman's wedding continue.
Tuesday 2 March 2021
Episode 82
Esma confronts Ipek and forgives Gulistan. Siren breaks things off with Boga. Will Osman change his mind about marrying Gurcu?
Wednesday 3 March 2021
Episode 83
It's the day of the wedding, and Osman is nowhere to be found. The day takes an unexpected turn as Burcu goes missing, and Siren faces off against Esma in a heated argument.
Thursday 4 March 2021
Episode 84
The result of the wedding causes strain in Garip and Esma's relationship, as well as Sureyya and Faruk's. Adem needs Gozde's help before finalizing his plan.
Friday 5 March 2021
Episode 85
As Sureyya and Faruk's petty fight continues, Senem and Akif reluctantly get involved which ends in a surprise result. Adem reconnects with an old friend to add the finishing touches to his plan.
---
Monday 8 March 2021
Episode 86
As one family welcomes a new member, another family must say goodbye. Adem makes another breakthrough with Idil, and he begins his journey to reconnect with the world and those close to him.
Tuesday 9 March 2021
Episode 87
Adem's plan is sprung into action as Fikret is arrested for alleged smuggling. The Boran family scrambles to prove his innocence, but can they do it in time?
Wednesday 10 March 2021
Episode 88
As the judges gavel bangs down on the Boran family, Sureyya goes into premature labour and is rushed to hospital while Adem tries to come to terms with his mother's suicide.
Thursday 11 March 2021
Episode 89
Will Sureyya and Faruk get to bring their daughter home? Dilara finally tells Adem the big news! Faruk has bad news he has to tell the rest of the family. Will the Boran's find out who's behind all of the chaos?
Friday 12 March 2021
Episode 90
Final Episode
Faruk confronts Adem. Sahap finds out what has happened and goes to the Borans' for answers. Life as the Borans know it has changed. Will they be able to overcome this hurdle?
---
The new season of Doodsondes, Season 3, replaces Deur Dik en Dun on e.tv and eExtra at 17h30 and 21h30 respectively.