Days of Our Lives Teasers – October 2020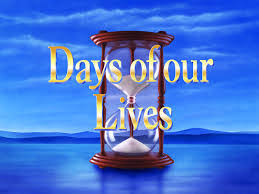 Thursday 1 October 2020
Episode 13161 (275)
Paul is concerned that he hasn't been able to share his good news with John. He runs into Kate, who tells him about John seeing Roman and Marlena kissing. Staying with the plan, Hattie is determined to get revenge on Andre. Andre continues his attempt to take Kate's spot at DiMera.
Friday 2 October 2020
Episode 13162 (276)
John and Marlena develop an escape plan. Nicole is nervous about her custody hearing for Holly and tells Brady she wishes there were a way to prove that the judge took a bribe from Deimos. At the courthouse, Brady apologizes for breaking into Eric's.
---
Monday 5 October 2020
Episode 13163 (277)
Nicole and Brady panic, thinking the truth about Deimos's death is out, but the judge reveals the foster mother realized Nicole disobeyed the law. Brady and Justin call foul. Everyone is called back to the judge's chamber, and the judge gives his verdict.
Tuesday 6 October 2020
Episode 13164 (278)
Rafe, Hope and Eli hope Raines takes the bait they're arranging for Myron to feed him so that Raines can finally be arrested. Eli prevents Gabi from entering Club TBD… and they spar. Rafe is stunned when he gets a call from Dario. Later, Gabi accepts a delivery… which puts her in danger…
Wednesday 7 October 2020
Episode 13165 (279)
Tripp tells Kayla that he intends to donate his Vitali inheritance to the hospital, but she rejects his offer. Steve talks with Kayla, attempts to convince her to make amends. Later, Tripp declares to Kayla that he has no intention of leaving town. Claire and Theo wrestle with their continued attraction to each other.
Thursday 8 October 2020
Episode 13166 (280)
John and Marlena try to escape. Later, it's revealed that Hattie has a shocking surprise for them. Eric is still fighting his feelings for Nicole. Brady speaks with Hattie and questions her about why she dumped John. Nicole and Brady take Holly home and Eric bumps into Hattie.
Friday 9 October 2020
Episode 13167 (281)
Andre calls a press conference to expose Kate and Roman's "affair"… but Roman steps up and takes responsibility. Andre presses on and declares his intention to take over as CEO of DiMera Enterprises and offers "Marlena" the chance to testify to his sanity. But later, Hattie takes the opportunity to get revenge…
---
Monday 12 October 2020
Episode 13168 (282)
Hattie continues to explain how Andre is unfit in front of Jennifer, Roman and Kate as well as board members. John and Marlena are prepped for treatment when suddenly they have a surprise guest arrive. Paul brings Hope into the fold about how "Marlena" has been acting strangely.
Tuesday 13 October 2020
Episode 13169 (283)
John and Marlena are scheduled for ECT. While they wait for it to begin, Marlena worries about losing her memories. Hope confronts Hattie. Bonnie continues to ingratiate herself with Victor, revealing to him that she and Justin are taking things slow.
Wednesday 14 October 2020
Episode 13170 (284)
Eric fantasizes about Nicole walking away from Brady and back into his life. Chad confronts Andre about his failed press conference, demanding to know if Andre is trying to steal the company out from under Kate and him. Gabi brings Eli a gift to thank him for rescuing her from Raines.
Thursday 15 October 2020
Episode 13171 (285)
Marlena confronts Hattie, who slips and admits that she was working with an accomplice. Bonnie freaks when she learns that Hattie has been arrested. Brady talks to John about his ongoing jealousy of Nicole and Eric. After Tripp leaves, Theo and Claire talk about their relationship.
Friday 16 October 2020
Episode 13172 (286)
Hattie asks an uninterested Justin to be her lawyer. She reveals she didn't pull off her scam alone. However, before Hattie can name her accomplice to Justin, Bonnie arrives. Marlena and Eric reunite. He tells her about his strange visit to Hattie who was in Adrienne's hotel room.
---
Monday 19 October 2020
Episode 13173 (287)
Sonny and Paul have to tell Gabi their wedding is going to be a double wedding with Chad and Abigail. Gabi runs into drunken Lucas, who's just been fired by Kate for drinking. Hattie asks Bonnie to convince Justin to be her attorney. Meanwhile, Marlena tells John her wild theory.
Tuesday 20 October 2020
Episode 13174 (288)
A drunken Lucas' prayer is answered as a vision of Will appears to him in the church. Will tries to console his father. Abigail runs into Gabi and shares her empathy over the tough spot Gabi is in regarding Arianna being in the double wedding.
Wednesday 21 October 2020
Episode 13175 (289)
Nicole starts her first day as a regular employee at the Horton Center. Jason, the man Eric spoke to after a drunk driving incident, visits. Chloe asks Brady for a loan so she can buy Club TBD which is up for auction. Julie also hears about the Club TBD auction.
Thursday 22 October 2020
Episode 13176 (290)
Chloe and Julie start out as adversaries during the Club TBD auction, but when Myron makes a bid himself, will the women make an unlikely partnership? After nearly drinking himself to death, Lucas wakes up in bad shape. Nicole's feelings for Eric bubble to the surface.
Friday 23 October 2020
Episode 13177 (291)
Per Brady's request, Eric is about to fire Nicole, but doesn't go through with it because Chloe interrupts them. Brady meets with Justin about Titan, and later when Nicole returns home early from work, Brady assumes Eric fired her. Hope and Rafe each think the other would be the better police commissioner.
---
Monday 26 October 2020
Episode 13178 (292)
Brady sends Nicole off to work, knowing Eric will soon be firing her. However, Nicole is stunned when she shows up at the Center and learns Eric has left. Andre surprises Chad by offering to throw him a bachelor party. Abigail gets a call from Justin about her annulment from Dario… and it isn't good.
Tuesday 27 October 2020
Episode 13179 (293)
Emotional Sonny has a painfully honest discussion with Paul about Sonny's enduring love for Will and his guilt over the way their relationship ended. Justin tells Abigail and Chad that their annulment was not granted. Abigail fears that she and Chad will never be able to get married?
Wednesday 28 October 2020
Episode 13180 (294)
Nicole tells Brady Eric left Salem. At the same time, Marlena figures out Eric went to the farmhouse, and visits him there. She realizes he left because of Nicole. Chad promises Abigail they'll find a way to get the papers they need from Dario so they can get the annulment finalized and get married tomorrow.
Thursday 29 October 2020
Episode 13181 (295)
The night before the double wedding of Chad and Abigail and Sonny and Paul, their friends and family throw them bachelor parties. All the prospective spouses anticipate spending the rest of their lives together unaware that the mystery patient at Bayview has plans of his own.
Friday 30 October 2020
Episode 13182 (296)
The day of the double wedding has finally arrived. Chad shares warm moments with parental stand-ins Andre and Kate. After Chad leaves, Andre and Kate set new ground rules for their fake marriage.
Abigail gets ready at the church with Jennifer and JJ. Paul asks John and Marlena for advice about his vows. Justin and Victor help Sonny get ready, observing some old Greek traditions. Later, Chad arrives, and he and Sonny toast to their future. Meanwhile, the Mystery Patient escapes.
---
Premiere episodes of Days of Our Lives air on e.tv from Mondays to Fridays at 16h45.