Days of Our Lives Teasers – January 2021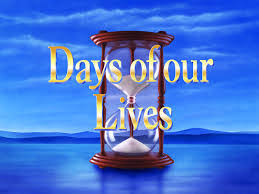 Friday 1 January 2021
Episode 13227 (341)
Sami and Rafe don't regret that they were there for each other. Meanwhile, Hope learns from Shawn and Belle that Ciara has been acting out. Ciara has it out with Claire about how she ruined things for Ciara and Theo.
Steve tells Kayla about Tripp's feelings for Claire, and they puzzle over how Tripp found out about the Kayla and Kate conversation regarding Tripp's donation. Meanwhile, Kate is relieved to see Lucas, who tells her what Sami did to Will. Kate urges Lucas to go to rehab.
---
Monday 4 January 2021
Episode 13228 (342)
Rafe wakes up in Sami's bed as Hope tells Eli she wants to find Rafe and try to reconcile. Hope visits Sami to ask if she knows where Rafe is. Sami lets Belle know she's furious with her. Will meets Belle, who inadvertently tells him about his affair with Paul.
Brady panics when he can't find Tate and later learns that Eve took him for a walk without permission. Eli comes to follow up on the Deimos murder investigation, questions Brady and Victor.
Tuesday 5 January 2021
Episode 13229 (343)
When Sami lashes out at Belle for giving Chad back the DiMera money… Belle returns fire by laying into Sami over her behavior with Will. Will flirts with Paul and Sonny talks to Chad about his feelings for Paul and Will. Hope opens her heart to Rafe, who is wracked with guilt. Later, Hope proposes to Rafe.
Wednesday 6 January 2021
Episode 13230 (344)
Will kisses Paul as Sonny arrives outside Paul's room. Will confronts Sonny about how their marriage wasnt as blissful as Sonny led him to believe. Eric comforts Sami who is upset her stunt with Ben has alienated her even further from her son Will.
Sami gets devastating news. Steve confronts Tripp about what he's hiding related to Kate DiMera. Claire's surprised when Ciara shows up at the loft and reveals she's moving back in. Also, Claire visits comatose Theo in the hospital.
Thursday 7 January 2021
Episode 13231 (345)
Sami appeals to Lucas for help with Will, urging him to sober up and be there for his son. Later, Sami goes back to her hotel room and receives a surprise visitor. Victor thinks Sonny is making a huge mistake when it comes to Paul and Will.
Sonny shows up at Marlena's, but Eric tells him that Will is gone. Brady goes to Paul, hoping he can help neutralize Eve. Eve asserts her authority in the Kiriakis household, but Maggie fights back.
Friday 8 January 2021
Episode 13232 (346)
After Will's talk with Eric, he goes to Sami and admits he understands her a little better now. Will finds Hope's engagement ring. JJ calls Hope over to his place, and she's concerned that he looks tired and out of sorts.
Hope tells Jennifer about Rafe. Eli gives Rafe a report on Theo's laptop – they learned that Theo broke into that building the night he was shot because he had linked that office to the DiMera hacking.
---
Monday 11 January 2021
Episode 13233 (347)
Sami tries to get the ring back to Rafe in Hope's presence. After Sami leaves, Rafe wines and dines Hope and re-proposes. Doug and Julie help them celebrate, but Doug gives Rafe a warning. Later, Hope and Rafe share a kiss.
Kate, still rattled over the situation with Theo, runs into Gabi. Kate wants to know if Gabi has made a decision about selling Gabi Chic. Jennifer asks Chad for a statement on the DiMeras involvement in Theo's shooting and tempers flare.
Tuesday 12 January 2021
Episode 13234 (348)
Marlena's reluctant to let Sami in when she brings Will an early Christmas present. Sami urges Marlena to please look out for Will until Lucas is healthy. Kate's upset Lucas is in the throes of withdrawal now that he's in detox. Maggie shows up to offer Lucas her support.
Paul and John focus on doing a background search on Eve per Brady's request. Brady enjoys telling Sonny that despite Sonny's determination to reconcile with Will, Will apparently has a thing for Paul and kissed him. Hope and Rafe enjoy a romantic morning in bed after last night's romantic second proposal.
Wednesday 13 January 2021
Episode 13235 (349)
It's Sami's last day in Salem and she makes her rounds to say her final goodbyes. She thanks Eric and Roman for their support and expresses her gratitude to her brother for talking Will into giving her another chance. Sonny goes to Will and asks him to work on their marriage.
Brady busts Eve with the information he got from Paul, but Eve has something of her own on Brady… and the two reach a stalemate. Claire tells Shawn and Belle about Ciara's vow to ruin her life as Ciara blows off Hope and Rafe when they challenge her defiance.
Thursday 14 January 2021
Episode 13236 (350)
Abigail insists JJ let her in and sees he's a mess. He tells her to leave, but when he opens the door, Rafe is there to tell him IA has made the decision about his case. Lani heads to the station and encounters JJ. Jennifer confides her concern about JJ's depression to Kayla.
Chad and Kate are hopeful the specialist they hired will be able to help Theo. Meanwhile, Steve tells Tripp he has a plan to deal with Kate. Ciara lashes out at Rafe, almost reveals she knows his secret. Kate and Chad hope the experimental treatment can bring Theo back to them.
Friday 15 January 2021
Episode 13237 (351)
JJ is officially cleared. Abigail and Jennifer offer their support, but JJ is still shell-shocked. Abe is furious. Lani overhears and is uneasy. Meanwhile, Theo's friends and family learn that his experimental medical treatment has been unsuccessful. Ciara and Claire almost bond in their grief, but a fight breaks out.
---
Monday 18 January 2021
Episode 13238 (352)
Paul drops by the townhouse to see John, but encounters Will instead. Paul later runs into Sonny, who apologizes for hurting him. Sonny and Gabi catch up, and Sonny tells her the good news about Will. Later, Sonny runs into Justin, and Sonny wonders if his dad thinks choosing Will was a bad idea.
John gets Marlena to admit she's concerned about the Will situation. Later, he surprises her with a romantic gift. At the mansion, Brady and Eve get into another argument, which Justin breaks up. Kate tells Andre about Chad discovering her part in Theo's shooting.
Tuesday 19 January 2021
Episode 13239 (353)
JJ writes letters to his loved ones and gives away his possessions as he prepares to make a drastic decision. He recalls a few past moments of his life with Gabi, Lani, Theo, Abe, Roman, Hope, Chad, Abigail, Jennifer and Jack.
Wednesday 20 January 2021
Episode 13240 (354)
It's Christmas Eve in Salem and Jennifer hosts the traditional hanging of the ornaments. As she gets the house and tree ready for the party, she calls to check on JJ and is worried when her son doesn't answer? Rafe and Hope also are in good spirits, but Ciara threatens to expose Rafe's secret.
Doug and Julie invite Abe to the Hortons. Jennifer speaks with Abe about JJ and Theo. Eli supports Lani, who is then encouraged by Valerie to not give up on JJ. JJ is about to go to the Square, but opens his door to find Gabi there.
Thursday 21 January 2021
Episode 13241 (355)
Lani is crushed when she sees JJ and Gabi together. She flees while Gabi tries to help JJ. Jennifer makes an emotional appeal to Abe to forgive JJ. Will encourages Sonny to spend more time with him because he wants to hear their love story. Brady moves forward with a plan hatched with Victor to neutralize Eve.
Friday 22 January 2021
Episode 13242 (356)
It's Christmas Day in Salem… a time of peace, goodwill towards men… and of course, miracles. Eric visits Jennifer, who is concerned about JJ. Eric gives Jennifer a friendship bracelet. At the same time, Gabi has spent the night with JJ to make sure he was okay.
Lani meets with Valerie, who can tell something is going on. Later, Lani, Abe, Valerie, Claire, Ciara and JJ all spend time with Theo. Abe has stayed with Theo all night as Valerie comforts Abe, who tells her about his talk with Jennifer about forgiving JJ.
---
Monday 25 January 2021
Episode 13243 (357)
Theo comes out of his coma. His family/loved ones are overjoyed. Valerie asks everyone but Abe to leave so she can call in the specialists. Lani pulls JJ away for a private talk. Later, Lani takes him to talk to Theo. Meanwhile, Claire and Ciara are thrilled about Theo's return, but argue over who should see him when.
Tuesday 26 January 2021
Episode 13244 (358)
Kate nervously waits with Chad to visit Theo, while Abe and Lani press Theo about why he decided to break into the office building. She and Chad visit Theo. After their visit, Chad tells Kate he's lost all respect for her.
Wednesday 27 January 2021
Episode 13245 (359)
Chad and Abigail make love in the midst of preparations for tonight's New Year's Eve party. They also discuss Kate's fate and speak to Belle about her hunt for the DiMera saboteur. Later, Abigail notices an unfamiliar email address on her invitee list. Meanwhile, a mystery woman RSVP's for two.
Thursday 28 January 2021
Episode 13246 (360)
At Chad and Abigail's New Year's Eve party, some couples get closer: Chad and Abigail; Gabi and Eli; Jennifer and Eric; Kate and Andre. Others have complications: Sonny and Will after a chance encounter with Paul.
Ciara gets drunk and crashes the party… Meanwhile, Brady continues to work Eve, and they sneak into the party, so Eve can try to woo Gabi to Basic Black. Also, a mysterious couple gets ready to attend the party. Later, couples kiss as the year closes out… and the mystery woman reveals herself to all… it's Vivian.
Friday 29 January 2021
Episode 13247 (361)
Eve breaks their kiss and slaps Brady. Their fight is interrupted by Sonny, who is looking for Will. Later, Brady goes to Eve's room to finish what they started… Meanwhile, Will and Paul kiss and it appears that their attraction is growing.
Vivian announces that she isn't crashing the DiMera party alone. She reveals the mystery man's name – Stefan O. DiMera. Stefan greets his family and graciously shares his story, and later, shares some shocking news.
---
Premiere episodes of Days of Our Lives air on e.tv from Mondays to Fridays at 16h45