Days of Our Lives Teasers – December 2020 Episodes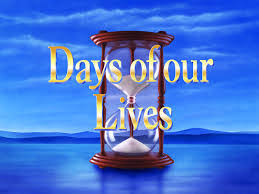 Coming up on Days of Our Lives this December 2020:
Tuesday 1 December 2020
Episode 13204 (318)
Sonny, Paul, Sami, John, and Marlena are in Memphis to track down the latest lead regarding Will. Eve informs Brady and Victor that she's Deimos widow. Kate has summoned Theo to help her figure out who's sabotaging DiMera. Meanwhile, Claire and Tripp discuss Theo's jealousy.
Wednesday 2 December 2020
Episode 13205 (319)
It's Halloween night and there are plenty of tricks and treats for Salem's heroes…
Thursday 3 December 2020
Episode 13206 (320)
Sonny whispers Will's name while unconscious, then wakes up to find Paul at his bedside. Sonny and Adrienne talk about Sonny's strong feelings for Will. Adrienne tells Sonny she never found Lucas to talk to him. Paul confides in John that his insecurity about Sonny's lingering feelings for Will continues to escalate.
Justin runs into John and Marlena, who asks him to check on Sami. Meanwhile, Lucas blasts Sami for leaving him behind. The two continue to argue until Justin is able to arrange Sami's release. Back at the Memphis house, Elvis tells his unseen companion that none of those people from Salem will come back.
Friday 4 December 2020
Episode 13207 (321)
John and Marlena track Sami down to Elvis's house, where she has found a bedroom belonging to someone named EJ. John searches the house and discovers evidence that a woman also lives there – Susan Banks. Adrienne tells Lucas that she wasn't the one who dumped him – it was Bonnie Lockhart.
Lucas hears the whole story of how Bonnie impersonated Adrienne, and then they discuss their relationship and Justin. Justin offers support and advice to Paul. Eve arrives at the Kiriakis mansion and explains to Maggie how she became Mrs. Deimos Kiriakis.
---
Monday 7 December 2020
Episode 13208 (322)
As the pressure on Kate builds to find the person who is sabotaging DiMera, Theo goes to the mansion to meet with her, but runs into Chad. Theo covers, but Chad picks up on his discomfort. Kate shows up and keeps Chad in the dark.
Abigail quits her job at the police station and tells Hope she wants to find a her true calling in the work force. Held at gunpoint, Sami stares down Susan and demands to know if EJ is alive.
Tuesday 8 December 2020
Episode 13209 (323)
In Memphis, Sami, Marlena and John confront Susan about whether or not Will is alive. Afterwards, Sami returns to Lucas and tells him about Susan. Meanwhile, Paul approaches a familiar face at the bar. Paul then meets with John and Marlena who tell him about Susan.
Abigail tries to reassure Chad that she doesn't think Theo would secretly work with Andre to sabotage DiMera. Chad's also concerned about the PR fallout from Jennifer's article about DiMera. Theo tells Kate he traced the hack on DiMera to a building. Tripp walks in on them discussing something illegal.
Wednesday 9 December 2020
Episode 13210 (324)
Victor wants Eve out of his house, but she surprises him with a twist. Victor is not happy about this and neither is Brady. Later, Brady gets an idea and later, he presents it in front of Eve to Rafe and Eli. Eric and Brady have a run in and Jennifer saves the day. Gabi has a surprise for Eli's first day. Rafe tries to haze Eli.
Jennifer zeros in on Kate and the trouble at DiMera. Later, Kate runs into Gabi and offers her greener pastures for Gabi Chic. Now that Abigail is back to work – the honeymoon is over. They go to breakfast where they run into Gabi and everyone learns some unsettling news.
Thursday 10 December 2020
Episode 13211 (325)
Eve denies murdering Deimos as Brady tells Rafe and Eli he has proof. Gabi tells Chad and Abigail about her job offer from Kate. She will turn it down if either of them has a problem with her working at DiMera. Once Gabi goes, Chad tells Abigail it's time to question Theo.
Kate tells Kayla the board wants to know who gave the huge anonymous donation to the hospital. Kayla finally reveals it was Tripp. Later, Kayla tells Steve what happened. Claire's thrilled that her new song is trending. Theo admits he paid people to be her followers.
Friday 11 December 2020
Episode 13212 (326)
Sami has an emotional reunion with Roman. After Sami leaves, Marlena and Roman worry what Sami might do after the havoc she's already caused since her return to Salem. Meanwhile, Sami goes to the police station and asks for Rafes help. Eve rails against Eli and Rafe after being brought in for questioning.
Meanwhile, Brady tells Victor that he got rid of Eve. Later, Eve warns Brady and Victor. Chad and Abigail ask Theo point blank whether Andre has him working on something underhanded. Meanwhile, Kate rebuffs Andre when he tries to comfort her about Will. Kate is upset to learn of another disastrous deal at DiMera.
---
Monday 14 December 2020
Episode 13213 (327)
As Rafe and Sami await the results of the exhumation of Will's grave, Paul returns to Sonny at the hospital. Sonny apologizes for delaying their wedding. Paul tells a stunned Sonny about who he saw while Sami and Rafe get shocking news.
JJ executes a surprise party for Lani at Doug's Place. At the party, Claire and Theo are still strained, and Lani urges her brother to make things right. Abe starts to warm up to the idea of JJ being with his daughter. Tripp confides his growing affection for Claire to Steve.
Tuesday 15 December 2020
Episode 13214 (328)
JJ is wrecked when he finds out who he shot. Lani tries to hold it together. Later, at the hospital, Kayla gets to work, while JJ tries to explain what happened. Abe and Valerie continue their evening until they hear horrible news. Julie, worried about Claire, calls and ultimately breaks the news.
Earlier, Claire vents to Tripp about Theo. Tripp defends him. In Memphis, Sonny sees Will. At the same time, Paul comes clean to Sami and she's furious. At the same time, Rafe turns up the heat on Susan Banks, but she runs out to the aid of her "Son"…
Wednesday 16 December 2020
Episode 13215 (329)
Claire faints after learning about Theo. Tripp cares for her and then takes her to the hospital. Meanwhile, Abe is shocked and angry. JJ tries to explain what happened. Hope intervenes. Lani, Abe, and Claire all have emotional scenes with Theo before Valerie takes over. Sami and Sonny try to get through to Will.
Delusional Susan tells Sami and Rafe what she believes to be the truth. Rafe intervenes, and contacts the authorities. Sami and Susan's confrontation builds. Off a phone call from Paul, John tells Marlena about Will. Marlena and John head to Memphis. Meanwhile, Sonny follows Will home, attempting to reach him.
Thursday 17 December 2020
Episode 13216 (330)
As Theo's life hangs in the balance, Abe blames JJ. Chad, Abigail, Kate, and Andre all get the bad news and Chad turns on his brother… as a guilty Kate keeps silent. Meanwhile, Tripp comforts Claire. A wrecked JJ replays the incident over and over in his head.
Friday 18 December 2020
Episode 13217 (331)
Lani tells Abe that JJ did not mean to hurt Theo. Chad interrupts to check on Theo, and Abe asks if Chad's taking responsibility. Meanwhile, Kate wants Theo's phone… and Tripp has it. Later, Claire joins Theo's family just as Kayla arrives with devastating news. Abigail comforts JJ.
Meanwhile, Eric tracks down Jennifer, and is there for her. They join Abigail and JJ as Chad arrives to tell them the news about Theo. JJ runs off, Eric persuades Jennifer that she has to leave JJ alone, give him time. Tripp comforts distraught Claire.
---
Monday 21 December 2020
Episode 13218 (332)
Sami begins her day in jail for punching Susan. She tells Marlena all that has happened with Will. Meanwhile, Susan asks Will to leave town with her. Sonny tells Adrienne about Will and Paul's deception. Meanwhile, Paul confesses his lie to John. Later, Sonny and Paul find themselves face to face.
Tuesday 22 December 2020
Episode 13219 (333)
Sami struggles to appeal to Will and Susan as they prepare to leave town… but despite some major inroads, Will becomes overwhelmed. Susan lays into Sami, but Sami, taking a softer approach, attempts to appeal to Susan as a mother. At the same time, John and Marlena brainstorm about how to reel Susan in…
During this, Sonny and Paul have it out about Paul keeping the fact that Will is alive a secret. Later, Will shows up and Sonny turns his attention to Will. Paul tries to help Sonny. Will is about to head out when Marlena shows up. Susan wants Will to come with her, but John rushes in at the last moment.
Wednesday 23 December 2020
Episode 13220 (334)
John gets Roger (Elvis) to admit to Will that Susan has been lying to him. He's Will Horton, not EJ DiMera. Susan has a mental breakdown and Roger takes her to the hospital, where Will shows up. After talking with Susan, Marlena follows Will back to his home, where she urges him to come back to Salem.
Earlier, Sami lashes out after Will runs off to see Susan. She particularly rips into Paul, and Sonny comes to his defense. Back at the bar, Paul thanks Sonny for defending him, but Sonny makes clear all is not forgiven. Meanwhile, a mystery person enters Will's bedroom and eyes the EJ letters.
Thursday 24 December 2020
Episode 13221 (335)
It's Thanksgiving in Salem. Chad and Abigail are grateful for the news that Will is alive. Marlena urges her grandson to be patient. Gabi arrives and Arianna's parents both hope that their little girl will be familiar to Will. Later, the father and daughter are reunited.
Earlier, Sami shows up and pressures Will, but Marlena shoos her daughter away, fearing that Sami's aggressiveness will scare him. Sami is frustrated to be left out, but then feels a little guilty when she learns about Theo. Meanwhile, JJ is tortured by the knowledge that it was his actions that hurt Theo.
Friday 25 December 2020
Episode 13222 (336)
Abe goes off on JJ after he finds him in Theo's room. Later, Abe summons Hope and tells her she must fire JJ. Meanwhile, Lani tells JJ she can't see him anymore because she needs to support her father. Tripp continues to be supportive of Claire.
Chad tells Kate he still thinks Andre might have involved Theo in something nefarious when he was shot. Later, Kate goes to see Theo and offers her sincere apology. She goes to the square and cries… and caught up short when a familiar face offers her comfort. Will is sweet with Arianna.
---
Monday 28 December 2020
Episode 13223 (337)
Will finds Kate, upset over what's happened to Theo. It's awkward at first, but Kate fills him in on Lucas' alcohol problem and encourages him to give Sami a chance. At the same time, Sami puts a plan in motion to help Will, but Eric overhears her on a phone call. He urges her to let Marlena handle things.
At the same time, Lucas continues to drink and later, Will finds his drunk father. Rafe goes to bat for Hope, but the end results aren't quite what he expected for him or Hope. Eli stops by to talk to Chad and Andre about Theo. Fed up, Chad kicks Andre out of the house.
Tuesday 29 December 2020
Episode 13224 (338)
Sami swiftly briefs Ben on his mysterious mission to help Will. Lucas is stunned to see Will and realizes his son is truly alive. After Will is dragged off, Chloe comes upon Lucas in the Square. Meanwhile, John and Marlena discuss their options for helping Will.
Later, Lucas bursts in with news that Will has been kidnapped. Rafe and Hope have a blow-out fight when she learns that he took her job. Abigail is shocked that Chad has thrown Andre out of the house. Later, guilty Kate can stand it no longer and finally confesses to Andre.
Wednesday 30 December 2020
Episode 13225 (339)
Sami's plan to help Will almost works, but Ben can't go through with it. Will runs off. Sami then goes to Marlena's place, finds Will and Lucas there with Marlena and John, who have been informed about the kidnapping.
Everyone attacks Sami for doing something so completely outrageous and misguided. Devastated, Sami runs out to the square, where she encounters Rafe. Earlier, Rafe pushes Hope to tell him (and herself) the truth about why she doesn't want to get married.
Thursday 31 December 2020
Episode 13226 (340)
Sami confides in Rafe about Will. She tells him about her plan and how everyone else hates her. Sami then learns about Rafe getting Hope's job, and their ensuing argument. Both at a low point, Rafe and Sami find solace in one another… Meanwhile, Hope confides to Jennifer about Rafe.
Claire and Tripp run into JJ in the square. Afterwards Claire feels helpless and Tripp suggests she hold a candlelight vigil for Theo. During, Claire says a few words, then Abe tells a story about Theo. Claire ends the vigil with a song, which touches Tripp, Abe, Valerie, Eli, and Lani.
---
Premiere episodes of Days of Our Lives air on e.tv from Mondays to Fridays at 16h45.