Days of Our Lives Teasers 2021 Latest Episodes (February Episodes)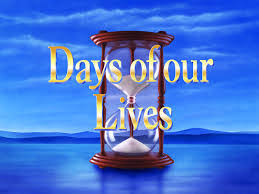 Monday 1 February 2021
Episode 13248 (362)
Vivian and Stefan stake their claim to the DiMera fortune, but Kate, Chad, Andre and Abigail are unwilling to go quietly. Will, uneasy after his latest kiss with Paul, and talk with Marlena, decides to end things with Sonny. Eve and Brady wake up together, and Eve tries to decipher what their relationship is.
Tuesday 2 February 2021
Episode 13249 (363)
Stefan apprises Chad and Abigail that he bought the bank that holds the mortgage on the DiMera Mansion. Chad connects the dots and realizes Stefan must be the person who's been sabotaging DiMera. Kate returns home with the DNA test results. Hope wants to go talk to Ciara, but is repeatedly waylaid.
Wednesday 3 February 2021
Episode 13250 (364)
Chad and Abigail are disappointed to learn the DNA test results prove Stefan is Stefano's son. Abigail catches up with Chad and hatch a plan to take down Stefan. Abigail returns to the mansion and finds Stefan in a state of undress. Andre meets with Vivian?
Rafe gets Ciara to confirm she knows the truth – that he slept with Sami. He realizes now Hope must be told the truth. Eric is surprised when he learns Roman had a busy New Year's Eve – with Anna, who has made an unexpected visit. Eric reveals he decided to move forward with Jennifer.
Thursday 4 February 2021
Episode 13251 (365)
After an awkward moment between Abigail and Stefan, she asks him to re-hire Chad and her. It's revealed that Andre has been providing Vivian with inside information enabling Vivian and Stefan to gain control of DiMera, with a role for Andre behind the scenes.
Chad credits Kate with being honest with Abe about her role in Theo's shooting. Rafe is about to confess to Hope he slept with Sami, but Ciara stops him. Tripp tries to comfort Claire, who is distraught about Theo needing to go away for treatment.
Friday 5 February 2021
Episode 13252 (366)
JJ feels guilty when he learns Theo has taken a turn for the worse. Gabi tells Eli she's feeling betrayed. Later, Eli asks JJ to meet with him. Will he confess he slept with Lani? While visiting Theo, Lani almost faints, and Kayla checks her out… At the same time, Steve also has a dizzy spell while with Paul.
Sonny blasts Paul, and accuses him of kissing Will because he wanted them to break up. Eric's feeling good about where things are with Jennifer after their kiss on New Year's Eve, but she's very cool and distant.
---
Monday 8 February 2021
Episode 13253 (367)
As Lani learns from Kayla that she is pregnant, a guilty Eli meets with JJ to give him back his gun. Later, a shaken Lani arrives at the police station to share her news with her baby daddy…Stefan and Gabi clash, but Kate arrives in time to convince Gabi to trust her.
Tuesday 9 February 2021
Episode 13254 (368)
Victor hopes that Brady's making inroads with Eve, but he is a bit worried when he hears his grandson seduced her. It looks like Lani might confess to Eli, but Eli tells her that she needs to let what happened between the two of them (sex) go.
Later, Lani calls Kayla, having made a decision about her pregnancy, and JJ overhears. JJ resigns from the force and is determined to start fresh, and hopefully that's with Lani. Anna wants to hire Steve to go after Stefano, but Roman urges his new, old love to let it go.
Wednesday 10 February 2021
Episode 13255 (369)
Abigail interviews Stefan for a press release announcing him as the new CEO. He gets a rise out of Chad when he interrupts. Later, Andre, Kate, Chad, and Abigail wonder what Stefan is hiding. It's revealed that Vivian and Stefan are double-crossing Andre.
JJ overhears that Lani is pregnant, but realizes she's planning to have an abortion. In counterpoint, Eli and Gabi celebrate her successful IPO and their future. Vivian pays Brady and Eve a visit to announce that Gabi chose to take Gabi Chic to DiMera. Brady and Vivian tangle.
Thursday 11 February 2021
Episode 13256 (370)
Vivian and Stefan discuss how it was necessary to enlist Andre's help in taking over the company. Kate and Andre interrupt to talk about the buzz behind the upcoming Gabi Chic's IPO launch Kate and Andre celebrate at Doug's Place.
JJ continues to plead with Lani not to end her pregnancy, believing the child is his. Jennifer interrupts the moment and learns JJ has decided to quit the police force. Eli and Gabi also celebrate her companys success. As they continue to bond, Eli suggests they take their relationship to the next level.
Friday 12 February 2021
Episode 13257 (371)
Chad and Abigail show up to bid farewell to Theo, but are troubled to find Stefan there. IAfter Chad and Abigail share an emotional farewell with Theo, Abigail returns to the office where Stefan questions her about Chad and Gabi's past relationship.
Lani tells Kayla she thinks for everyone's sake, she should just pass the baby off as JJ's. Kayla warns her about the long-term consequences if her lie is ever discovered. Gabi and Eli wake up together after making love for the first time.
---
Monday 15 February 2021
Episode 13258 (372)
As Abigail finds Gabi in Chad's arms, Vivian worries that Stefan has been hit by "the thunderbolt" and is so smitten with his brother's wife that it will derail their plans. Later, as Chad continues his quest to find the dirt necessary to bury his brother, Stefan stuns Abigail by asking Gabi out for a date.
With JJ present, Lani has no choice but to confirm her pregnancy to Abe as Eli confides to Valerie that he slept with Lani. Theo says a heartfelt goodbye to his friends and family in Salem. Claire and Ciara both get a chance to say goodbye to Theo in their own way.
Tuesday 16 February 2021
Episode 13259 (373)
Gabi declines Stefan's invitation to dinner. When Gabi goes, Abigail and Stefan have a heated exchange. Later, Stefan meets up with Vivian, who tells him Andre has become a huge liability. Vivian eavesdrops on John and Chad, learns they're getting close to the truth about the saboteur.
Andre and Kate miss out on saying goodbye to Theo. Vivian catches up with Andre, and tells him how close John and Chad are getting to the truth. Gabi interrupts, and Vivian claims she's looking forward to working with her. Later, Andre fires Gabi. Roman sets up a 'chance' meeting for Anna and Marlena.
Wednesday 17 February 2021
Episode 13260 (374)
Chad's suspicion of Andre grows, but Abigail comes to her brother-in-law's defense. At the same time, Vivian tells Stefan they need to deal with Andre. Meanwhile, Andre fires Gabi from Gabi Chic, and she (Gabi) tells Abigail that she could kill him?
Lucas is out of rehab and offers support to Kate over her feelings for Andre. Later, Kate goes to Andre and tells her that she feels the same way for him. Chloe offers a surprising endorsement of Eve to Brady, and Maggie, in a roundabout way, does the same to Eve.
Thursday 18 February 2021
Episode 13261 (375)
Abigail has found Andre's dead body, and tries to revive him. She then calls Chad with the news. Hope and Rafe arrive. Rafe stays at the crime scene while Hope questions Abigail and Chad. Both Chad and Abigail appear to be keeping secrets related to Andre's murder.
Eli comes upon a very upset Gabi. She tells him Andre stole her company. Eli is then called away to investigate a homicide. Gabi crosses with Stefan and asks him to intercede to get her company back.
Friday 19 February 2021
Episode 13262 (376)
Hope and Rafe inform Roman and Anna that Anna is a suspect in Andre's murder. While Rafe takes Anna to the station to be questioned, Hope tells Roman things look bad for his ex. Meanwhile, Anna refuses to answer Rafe's questions and demands to talk to her lawyer (Carrie).
Sonny returns home from London and tells Brady and Eve that Andre was murdered. Alone, Eve confronts Brady, and Sonny overhears him admit he killed Andre. Later, Sonny runs into Paul and almost tells him about Brady's 'confession' but decides better of it.
---
Monday 22 February 2021
Episode 13263 (377)
Roman presses Anna for answers about Andre's death. Roman meets with Hope and Rafe and provides an alibi for Anna. Sonny confronts Brady about admitting to killing Andre, and Brady plays along, then blasts Sonny for being a fool.
hen Paul confronts Will over moving in down the hall at the Martin house, Later, the two bond. John has spiked Steve's drink, both the poison and his motives unknown. Marlena stops by, and with Kayla, the gang talks about Anna and how Andre was murdered.
Tuesday 23 February 2021
Episode 13264 (378)
Chad comforts Abigail after she wakes from a dream of Andre trying to tell her who killed him. Abigail reveals to Chad that Gabi threatened to kill Andre… and Gabi has killed before. Meanwhile, Kate continues to despair over Andre's betrayal and dreams of him laughing in her face after he stole Gabi Chic. G
Lani has a nightmare that JJ finds out from Kayla that the baby isn't his and is crushed. JJ comforts Lani after the dream. At the same time, Eli dreams of Gabi rejecting him after he tells her he slept with Lani.
Wednesday 24 February 2021
Episode 13265 (379)
Abigail asks Gabi if she killed Andre. Gabi turns the tables on Abigail. Stefan enters the conversation. Later, Eli and Rafe watch the tape and react as they see someone enter. Chad and Kate bond over their shared grief and anger at Andre.
Earlier, Gabi again asks Stefan for her job back. Roman asks John to look into the letter Anna received, and John reluctantly agrees. John's guilt continues as he again drugs Steve's drink. Earlier, Steve catches up with Tripp. Eli confronts Lani about her pregnancy.
Thursday 25 February 2021
Episode 13266 (380)
As Eli and Rafe view the security video from the night of Andre's murder, they see a succession of suspects entering and exiting his office: Vivian, Gabi, Kate and finally Anna. They discuss each suspect and their possible motives. Rafe and Eli tell Hope about Anna and what they saw.
Vivian's upset with Stefan for turning over the security footage, but Stefan had no choice. Lani tells Gabi she's pregnant, and says the reason she was upset earlier had to do with Eli. John pours the last of the poison into Steve's drink. They discuss the anonymous letter to Anna.
Friday 26 February 2021
Episode 13267 (381)
Jennifer breaks the news about Roman and Anna to Eric. As they grow close and bond, Jennifer is interrupted by Henry Shah. Valerie goes to see Eli about Lani and the baby. At the hospital, Valerie confronts Lani, then finds the answers right in front of her.
Kayla finds Steve struggling with his vision and urges him to go see Dr. Shah. Meanwhile, Paul overhears John talking about poisoning Steve. Afterwards, Paul goes to Will. Will wants to call Marlena and fill her in. Back at the hospital, Steve receives news.
---
Premiere episodes of Days of Our Lives air on e.tv from Mondays to Fridays at 16h45.