Close Enemies 2 -Teasers – February Full Episodes 2021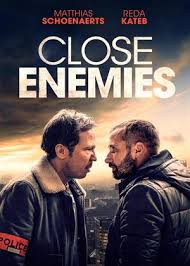 Back for Season 2!
To find out more about the series and to relive what happened in Season 1 please tap here: Close Enemies Season 1.
Comin' up in the first episodes of Season 2…
Monday 15 February 2021
Two years have passed, and Roxana has established her business in Vigo, Spain. Meanwhile, Horacio Santilla is suspected of money laundering.
Tuesday 16 February 2021
Berebere threatens to kill Roxana's friend, Puma. Alejandro locates the yacht that Roxana will use for her next delivery, and informs Camacho.
Wednesday 17 February 2021
Behind bars, Puma becomes an important part of the investigation. Ferrer passes on information to Camacho when identifying Ricardo.
Thursday 18 February 2021
Ferrer pressures Habanero and Abel to serve as informants. Alejandro finds out that Berebere escaped. Mariscala has Puma beaten up.
Friday 19 February 2021
Roxana and her men execute their plan in two phases. Meanwhile, the police chase continues. Martín infiltrates the police and steals data.
Saturday 20 February 2021
Roxana surprises everyone by deciding to give herself up voluntarily. Alejandro, Camacho and the federal police are amazed.
Sunday 21 February 2021
From her new operations centre in Las Dunas, Roxana orders that Puma be brought to her. Berebere threatens to kill El Habanero unless he kills Puma.
---
Monday 22 February 2021
Alejandro tries to convince Roxana to leave the drug industry, but she dismisses him. Manuel Salas realises that Carmen and Diego are following him.
Tuesday 23 February 2021
Roxana orders Rivera to continue with the transatlantic operations. Camacho interrogates Santilla and declares that he is an accomplice of Roxana.
Wednesday 24 February 2021
Roxana finds out through Alicia that La Mariscala has a business in the prison. Meanwhile, Berebere is cornered by the federal police.
Thursday 25 February 2021
Rivera proposes a negotiation with Alejandro, and asks to enter the witness protection programme. Roxana asks Martín to go to Mexico.
Friday 26 February 2021
Nana accepts the mission given to her by Mariscala. Meanwhile, Roxana's lawyer, Elisa, visits Ferrer to order him to stop harassing her client.
Saturday 27 February 2021
Alejandro convinces his team to work on the Rodiles case in secret. Puma finds scissors in Nana's cell and the two of them get into a fight.
Sunday 28 February 2021
Martín begins to execute his plans with the Pastor. Ustáriz pretends to help the shepherdess, but gets her drunk so she will sign the alliance papers.
---
Premiere episodes of Close Enemies air on Telemundo from Mondays to Sundays at 22h00.