Call for the Hero Teasers – October 2020 Episodes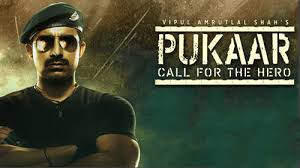 Read Below
This Saturday night (3 October) Star Life premieres a new novela Call for the Hero (Pukaar), which will only air at the weekends: on Saturdays and Sundays at 19h00.
It tells the story of army man Rajveer (Rannvijay Singha) and explores his responsibilities to his nation and family.
He's caught between his chaotic life and his inhibitions, while he attempts to win his father's love.
Why?
Because too many parents make their children feel they must!
It's a short series… approximately 24 episodes.
Coming up in the opening episodes:
Saturday 3 October 2020
Episode 1
Major Rajveer Shergill of the Indian Army succeeds in saving school children from kidnappers. Rajveer's brother, Rahul convinces him to return home. Rajveer becomes upset when his father humiliates him. How will Rajveer react?
Sunday 4 October 2020
Episode 2
Rahul is missing. Rajveer and Aarti strive to find Rahul's whereabouts. Amar recalls his past with Rahul and Yuvraaj. A taxi driver gives information about Rahul. Amar is startled to learn that Rahul has been kidnapped. Rastogi decides to torture Rahul. Will Rajveer find Rahul?
---
Saturday 10 October 2020
Episode 3
Amar decides to pay the ransom amount to the kidnappers. Meanwhile, Rajveer seeks the help of the police in order to nab the kidnappers. Later, when the kidnappers see the police and try to escape, Rajveer strives to nail them down. Will Rajveer succeed in his endeavour?
Sunday 11 October 2020
Episode 4
Amar orders Rajveer to get out of the house. Rajveer decides to leave Amar's house and stay with Aarti. Meanwhile, Rahul manages to escape from Rastogi's captivity and tries to contact Rajveer, but in vain. Will Rahul be able to evade Rastogi and his associates who are out looking for him?
---
Saturday 17 October 2020
Episode 5
Rajveer is desperate to learn about Rahul's well-being and wants to investigate his case. Meanwhile, Rastogi plans to demolish the slums and in order to do that, he intends to mislead Rahul.
Sunday 18 October 2020
Episode 6
Despite Rajveer's warning, Yuvraj sets out on his mission and dies while fighting against the terrorists. Yuvraj's martyrdom leaves Rajveer and his family dejected. Meanwhile, Rastogi's associates set out to demolish the slums. Will Rajveer be able to stop the atrocity?
---
Saturday 24 October 2020
Episode 7
Rastogi learns that Rajveer stopped his associates from clearing the slum. Amar decides to inform the media about Rahul's abduction. Meanwhile, Rajveer suspects that Pradhan is working with Rastogi. He decides to meet Rastogi and question him about Rahul. Will Rajveer find Rahul?
Sunday 25 October 2020
Episode 8
Rajveer finds out about Rastogi kidnapping Rahul. Later, Amar gets worried when Rastogi demands Rajveer for ransom to release Rahul. The next day during the exchange, Rahul gets shot while Rajveer tries to save him from Rastogi's associates. Will Rahul survive?
---
Saturday 31 October 2020
Episode 9
Rajveer stops Rastogi's associate from killing Rahul. Rastogi becomes upset on learning that Rahul is alive. Later, Amar decides to shift Rahul to his house after learning about the attack. Aarti decides to help Rajveer by giving information about Rastogi. In the meantime, Rastogi worries as his plans are getting foiled.
---
Premiere episodes for Call for a Hero air on Saturdays and Sundays at 19h00.