Call for the Hero Teasers – December 2020 Episodes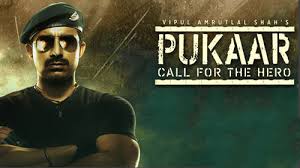 Saturday 5 December 2020
Episode 19
As Rajveer ignores Naina, she agrees to work for Rastogi. Later, Rastogi plans to plant a bomb in Shivajinagar but Rajveer manages to foil his plan by preventing Rastogi's associates from planting the explosives. Rastogi vows to destroy Rajveer.
Sunday 6 December 2020
Episode 20
Rajveer discovers that Rastogi abducted Aarti. Rastogi blackmails Amar by threatening to kill Aarti if Rajveer confronts him. However, Rajveer refuses to listen to Amar and decides to rescue Aarti. Will Rajveer rescue Aarti before it's too late?
---
Saturday 12 December 2020
Episode 21
Rajveer tortures Raghu to learn about Rastogi's plan. Rastogi plans to kill Raghu but Rajveer rescues Raghu. Naina apologises to Rajveer. Rastogi decides to kill Rahul upon learning about his improved health. Rajveer blackmails Rastogi to report Raghu's confession video to the media.
Sunday 13 December 2020
Episode 22
Rajveer agrees to return Raghu's tape to Rastogi. Amar and Pradhan are shocked as a few miscreants rob some documents belonging to the people of Shivajinagar. Later, Rastogi executes his plan and blackmails Rajveer. Rajveer decides to heed to Rastogi's demands.
---
Saturday 19 December 2020
Episode 23
Rajveer decides to find out about Rastogi's chartered accountant, Avinash Desai. Rastogi decides to take revenge on Rajveer. Rajveer manages to convince the minister to reopen the criminal cases against Rastogi. Rahul regains his consciousness. Rajveer manages to kidnap Rastogi.
Sunday 20 December 2020
Episode 24
Series finale!
Rastogi strives to escape from Shivajinagar. Later, Rastogi manages to contact his associates and plans to kill the people of Shivajinagar. On learning about Rastogi's plan, Amar tells Rajveer to stop Rastogi. As Rastogi tries to attack Shivajinagar, Rajveer beats him up.
---
New episodes of Brave & Beautiful replace Call for the Hero once it ends, taking Brave & Beautiful to seven nights a week.
---
Premiere episodes for Call for the Hero air on Saturdays and Sundays at 19h00.