Binnelanders Teasers July 2022 Latest Episodes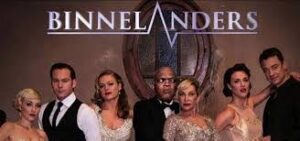 We (keportal Team) pleased to inform you about Binnelanders Teasers July 2022 Latest Episodes
Friday 1 July 2022
Episode 20/4084
Wessel is surprised when Steve talks to him about Annelize, and Karen's confrontation with Liam doesn't go unnoticed. Annelize's bad mood has nothing to do with Conrad's good news, while Gaby looks at Uys in a new light. Danny suspects Elise is up to something again, while At's actions catch Conrad off guard.
Monday 4 July 2022
Episode 21/4085
Missing medication is on Tertius's agenda for the day, and At asks Louis a very big favor. There is definitely tension between Zee and Gaby, while Danny has to think very carefully about Louis' offer. Annelize wants to reach out to At, but At has plans that influence Conrad's plans for the future.
Tuesday 5 July 2022
Episode 22/4086
Steve tries to encourage Annelize when she makes a decision about the offer, while Wessel is popular when  it comes to visitors. Louis is not the only one that tries to broker peace, and Naomi's news gives Tertius something to think about.
Wednesday 6 July 2022
Episode 23/4087
Liam contemplates his future with Zee, and Louis and Naomi are concerned about At and Delia. Rejection concerns Tracy, while Danny organises a surprise for Louis. Annelize and Wessel's relationship deepens, and an unplanned visit turns into a fiasco.
Thursday 7 July 2022
Episode 24/4088
Trust is a point of discussion, and Karen needs to make peace with her situation. Rian's arrival causes joy for more than one woman, while Conrad realises he is locked out of a new family dynamic. Chanel thinks Danny and Zee make a good team, and Delia unleashes her tongue.
Friday 8 July 2022
Episode 25/4089
A trust causes concern, while desperate plans give Steve a headache. Delia thinks At is going too far, while Louis' family drama becomes an obstacle. Uys' adventurous spirit is curbed by Gaby, and the mysterious buyer is revealed.
Monday 11 July 2022
Episode 26/4090
Conrad is looking for answers, and Uys and Liam are uncomfortable with each other. At wasn't born yesterday, while Tertius is once again suspicious about the sabotage. Annelize tries to ensure that other dealings are not forgotten, and Dawid wants to play open cards.
Tuesday 12 July 2022
Episode 27/4091
Shares are not the only thing that cause Annelize heartache, while Delia extends an invitation to Conrad. The flood gives Louis a brand new idea, and Uys is concerned about Gaby's feelings.
Annelize receives a call from Dawid, while At has an honest conversation with Steve – and expects an answer from Annelize and Conrad. A visit to Koos upsets Gaby, while an answer to a question causes inner conflict.
Wednesday 13 July 2022
Episode 28/4092
Gaby words her fears to Rian, and Conrad thinks At is derailing. Louis and Naomi are ready to make their own mark. Tracy tries to encourage Uys to grab the bull by the horns, while Delia is surprised by a visitor at Chiron.
Thursday 14 July 2022
Episode 29/4093
Annelize's discovery assures her even more that she isn't wrong. Conrad thinks At is using Delia to prove a point, and Karen tries to vanquish Uys' fears. Zee gives Gaby her test results, while it becomes clear that Naomi and Louis are not talking out of one mouth. Tracy takes At to task – but he isn't standing for it.
Friday 15 July 2022
Episode 30/4094
At sets his sights on Steve, while Louis' frustration with Naomi boils over to Zee and Danny. Rian makes a suggestion to give Gaby peace of mind, and Conrad puts his foot down in regards to Annetjie's services to At. Delia might get the answers from At that everyone else is begging for.
Monday 18 July 2022
Episode 31/4095
Tracy encourages Conrad to fight – but not just for himself! Wessel thinks he has a solution for Annelize's problems, and Danny plays a mean trick on Zee… Conrad pleads for honesty, while Annetjie asks Tracy to put a good word in for her.
Zee talks to Tertius about Koos, while a broken Annelize makes a very big decision after an intense conversation in a Chiron boardroom.
Tuesday 19 July 2022
Episode 32/4096
Conrad's new idea includes Delia and Steve, while Gaby organizes a photo shoot. Tertius gives Delia a warning, and Gaby is concerned about her DNA test results. Conrad, Rian, and Steve take one more shot at convincing Annelize to change her plans, and Uys has big plans for the future.
Wednesday 20 July 2022
Episode 33/4097
Gaby's DNA test results are ready, while Prof Struwig lands up in ER. News regarding At spreads like wildfire – and Jeremy is asked to investigate him. Conrad's search for a locum is complicated by the fear that Chiron is stealing surgeons. Hugo's assistance is called upon when Delia is not of much help.
Thursday 21 July 2022
Episode 34/4098
Conrad realizes he has no idea what At is doing. Annetjie knows she has to warn the board about gossip, and Delia finds herself in a very difficult position. Zee is shocked in her patient's behavior, and after a confrontation, Uys looks to Tracy for support.
News regarding Sharon Basson put Annelize's thoughts in hyper-drive, while no time is allocated for a serious discussion.
Friday 22 July 2022
Episode 35/4099
A squabble is interrupted by a patient in need. Sharon rubs Conrad up the wrong way, and Zee stands her ground when it comes to her patient. Gaby and Rian's discussion doesn't go unnoticed, while Steve thinks they should look at a proposed deal very carefully.
Monday 25 July 2022
Episode 36/4100
Conrad and Annelize try to come up with a new strategy to approach Sharon, while Annelize thinks she knows who is pulling the woman's strings. Uys tries a few ways to cheer up Gaby. Prof Struwig's test results focuses Zee and Liam's attention, and Conrad discovers Annelize's 'secret'.
Tuesday 26 July 2022
Episode 37/4101
Gaby opens up to Karen, and Conrad is concerned about Annelize's safety. Uys words his fears towards Tracy, while Zee is not planning on giving up easily – and she asks Rian for help. A serious discussion leaves both parties underwhelmed.
Wednesday 27 July 2022
Episode 38/4102
Conrad is suspicious about Annelize's situation. Uys needs to make a big decision. Tertius reprimands Zee, and cabin fever leads to a kiss. Hugo's news leaves everyone even more frustrated. Liam tells Zee that Prof Struwig wants to see her, and Jacques shares news regarding the Bassons with Annelize.
Thursday 28 July 2022
Episode 39/4103
Liam shares news regarding Prof. Struwig with Zee, and Tracy extends a dinner invitation on the spur of the moment to the Bassons. Uys cries on Tracy's shoulder, while Steve and Conrad are once again at loggerheads. A text messages makes Gaby think twice about her relationship.
Friday 29 July 2022
Episode 40/4104
Zee puts her foot down with Prof Struwig, while Uys thinks hard about Gaby's question. Julia hears about Hugo's offer, and Sharon's behaviour isn't acceptable to everyone. Tracy realizes there is a lot going on that she isn't aware about, while the truth shocks Gaby. Conrad is concerned about Chiron's actions.