Binnelanders Teasers – February 2021 Episodes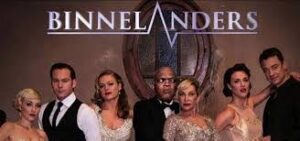 Monday 1 February 2021
Episode 171/3714
Dooming testimony against Tracy makes Annelize think, and Bronwyn's emotional outburst has far reaching consequences and a multitude of reactions. Death haunts Wimpie, while Petrus wonders who his competition is. Danny tries one last time to help someone.
Tuesday 2 February 2021
Episode 172/3715
Conrad's rage gives Annelize an advantage. No good deed goes unpunished – just ask Tracy. Inappropriate comments and a big sum of hard cash cause suspicion. Elana gets it from all sides while Lexi has a surprise for Bronwyn.
Wednesday 3 February 2021
Episode 173/3716
A livid Conrad has more than one fire to extinguish, and Elana gets a nasty surprise at the consulting room. Bronwyn's anxiety doesn't go unnoticed, and Wimpie's non-stop chatting to Maya doesn't sit well with someone.
Louis reads between the lines for Conrad, while a mistake at the morgue upsets everyone. Petrus plays open cards with Karen.
Thursday 4 February 2021
Episode 174/3717
Petrus has to explain to Conrad what happened, and Annelize is suspicious when she sees Conrad and Delia in each other's company. Rian is busy with something secretive. Tracy doesn't get any sympathy from Annelize, while Steve becomes increasingly concerned about Bronwyn.
Wimpie tries to make sense of what happens after life ends, and Maya shares information about orthopedic prosthesis with Tertius. Conrad's fiery nature costs him dearly.
Friday 5 February 2021
Episode 175/3718
Annelize tries to manipulate a situation – but Tracy is also wide awake. Steve and Danny are in agreement regarding Bronwyn, and it becomes clear that Rian is hiding something from Delia. Tertius struggles to believe Maya's story, while Annelize is caught off guard by a phone call.
---
Monday 8 February 2021
Episode 176/3719
Tracy is not the ony one that takes the wind out of Conrad's sails, while it is not just Petrus that has the wrong idea about someone. Lexi blames Elana for what is happening to Bronwyn, and Becker doesn't have good news for Rian.
Wimpie isn't shy to share his theory regarding Petrus, and Annelize realises that something has Rian spooked.
Tuesday 9 February 2021
Episode 177/3720
Chiron becomes a thorn in the side – and with good reason! Hugo's update concerning Bronwyn boggles Steve's mind. Petrus's questions catches Tertius off guard, and Rian explains his position to Annelize. An invite stuns Petrus, while Bronwyn has a confession of her own.
Wednesday 10 February 2021
Episode 178/3721
Wimpie is worried about Maya's plans, and Annelize and Conrad realize what it would mean if Southern Hope should cave. Bronwyn sees the humour in her circumstances. Delia's feelings are hurt in the process of Rian explaining to her what is really going on.
Gaby is bored with her company, and Annelize wants to discuss an idea with Rian.
Thursday 11 February 2021
Episode 179/3722
Naomi and Louis might think twice after Naomi's offer to Julia. Petrus is more hurt by Maya's actions than the position that he finds himself in. Rian's honesty shocks Annelize – and a decision is reached regarding her idea. Danny should get his plans in order – Valentine's Day is just around the corner.
Friday 12 February 2021
Episode 180/3723
Conrad and Annelize have different viewpoints on the future, while Naomi and Louis think about theirs. Karen defends Petrus, and Piet might have the last pieces to the puzzle. Delia's nostalgic memories are cruelly destroyed by Conrad, while At also gives his input regarding the plan on the table.
---
Monday 15 February 2021
Episode 181/3724
Chanel is not impressed with Danny. Louis and Naomi will have to think very carefully about their next step. Conrad has a plan with At, but Elana only sees trouble on the horizon. Rian has too much at stake to be content with delays.
Gaby might be the heroine in someone else's love story, and Annelize seems to be the only one that truly understands the consequences of a dream.
Tuesday 16 February 2021
Episode 182/3725
Naomi and Louis discuss their plans for the future with Ilse and Okkie. At doesn't hold back and makes it very clear where he stands, while Naomi suddenly has a lot of doubt in her heart. Danny will have to think on his feet, and a patient that lands up in ER upets Annelize for many reasons.
Wednesday 17 February 2021
Episode 183/3726
Frustrations reach boiling point – just as an uninvited guest arrives. Naomi thinks she knows what is making Okkie uncomfortable, and the group realises that At isn't making empty threats. Louis makes an appointment to chase one dream, while Harare is a lot more dangerous than anyone could've ever dreamt.
Thursday 18 February 2021
Episode 184/3727
Wimpie's remark leads to a lot of questions that Naomi will have to sort out for herself. Chanel gets the biggest shock of her life. News out of Harare gives no one clarity on what is really happening.
Friday 19 February 2021
Episode 185/3728
Conrad is forced to break a promise, and Louis realizes Naomi is a lot more serious about her new idea than he thought at first. Elana and Lexi decide on what to tell the kids about Steve. There is one specific hotel room where secrets and tension lead to breaking point.
---
Monday 22 February 2021
Episode 186/3729
One question leads to a discussion spinning out of control – and tension is starting to take its toll. Danny gives Chanel a lot to think about. Naomi and Louis need to make a big decision. The path to honesty is not an easy one. Communication in a very difficult situation is not completely impossible – but becomes more and more urgent!
Tuesday 23 February 2021
Episode 187/3730
Not all answers are always good news, and Delia reaches out to Elana regarding Conrad. Gaby begins to wonder if she didn't act too hastily – but the news has spread like wildfire. Chanel's present becomes a point of concern, while Tertius lets Elana understand that the ball is in her court.
There is more than one tragedy that plays out in a hotel room in Harare.
Wednesday 24 February 2021
Episode 188/3731
Elana makes a very interesting discovery while she works against time, and Conrad's patient makes a shocking claim. Louis' investigation forces Naomi to think twice, while Danny and Chanel are very uncomfortable in each other's company.
It becomes clear that At is in a lot more danger than anyone could've imagined.
Thursday 25 February 2021
Episode 189/3732
Joline arrives unexpectedly, but Okkie welcomes her with open arms. Danny has a difficult task at hand, and a message from far away makes life even more interesting. When the end is in sight, it is time for a last message.
Friday 26 February 2021
Episode 190/3733
Rian is on the warpath, while Tertius and Tracy consoles each other after receiving bad news. Lexi tries to make life easier for Elana – because no one else is doing it. Too many words and not enough discretion leads to a decision, while Harare tests more than one person's character.
---
Premiere episodes of Binnelanders air on kykNET Mondays to Fridays at 19h30. The omnibus airs on kykNET on Saturdays from 09h30.