Binnelanders Teasers – December 2020 Full Episodes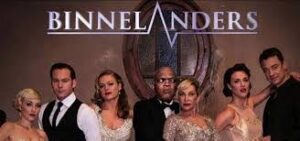 Tuesday 1 December 2020
Episode 127/3670
Hugo puts his foot down with Julia, and Conrad draws a line in the sand – while Annelize realises her game is old news. Naomi realises that she is fighting a system that she can't win, and Elana's disappointment turns into anger when Faf arrives uninvited to a family evening.
Wednesday 2 December 2020
Episode 128/3671
Julia discusses her dilemma with Elana – and asks her what she would've done. A conversation with Ilse and Okkie makes Louis realise that something is wrong with Naomi, while Maya is looking for answers from her father and Elana. Annelize is stunned by a visitor, and a quiet moment leads to a big decision.
Thursday 3 December 2020
Episode 129/3672
Elana is reprimanded for her attitude, while Naomi tries to make peace with her situation. Annelize gives as good as she is getting, while At's patience shouldn't be tested any further. Naomi tries to improve her day by playing open cards with Louis, and Wessel Mouton is a determined man.
Friday 4 December 2020
Episode 130/3673
Hugo is scared that Naas will influence Julia into changing her mind, and Annelize's shares aren't the only topic of discussion during breakfast. At wonders, if Ingrid's decision is based on disappointment, while Louis and Naomi discusses the road ahead.
Once again Wessel leaves Annelize stunned, and Steve is consulted regarding an operation.
---
Monday 7 December 2020
Episode 131/3674
A planned holiday leads to a fight about decisions, while it isn't just a nosey neighbour that is getting Tracy down. Julia asks Danny an important question, and Annelize is not the only one that feels lonely. Elana is not planning on forgiving Conrad quickly, and a photograph could make everything (that feels wrong) right.
Tuesday 8 December 2020
Episode 132/3675
Danny takes his new duty very seriously, while Louis is hopeful for At's future. Tracy tells Ilse what happened at her flat, and Conrad shares Annelize's news with At. A conversation with Tertius convinces someone of their next step. A quarrel with Wessel is interrupted by a thief, while Naomi begins worrying about time management.
Wednesday 9 December 2020
Episode 133/3676
Julia and Hugo talk about their past while they walk into their future, while Wessel opens up a bit more towards Annelize. When work comes in the way of a good time, it is Elana that gets the ball rolling. Tracy and her mentor start off on the wrong foot, while a thoughtless quip leads to a test. Piet has a piece of interesting news for Conrad.
Thursday 10 December 2020
Episode 134/3677
Ingrid discusses her and At's problems with Elana, and Tertius's discovery leads to a lot of questions. Vicky's head is not with her schoolwork, and Ilse is caught off guard by a serious conversation. Greeff is definitely not used to diamonds in the rough, while Elana and Conrad's conflict escalates. Julia's doubt is on display, and Tracy suspects that she is no longer on Conrad's radar.
Friday 11 December 2020
Episode 135/3678
Maya finds Tracy's reaction regarding a ring amusing, while At catches Ingrid off guard with an invite. The DNA test results are ready, and Elana realises that Ruan and Vicky have Christmas traditions that she and Steve are not aware of. Tertius and Wessel are at loggerheads, and an interview causes tension between Conrad and a colleague.
---
Monday 14 December 2020
Episode 136/3679
Tracy just can't seem to win with Greeff, and Ingrid is concerned about At's plans with Annelize. Elana has a bright idea that she shares with Steve, while Julia's nerves are getting to her before the big day. Piet's discovery could give Conrad an advantage.
Tuesday 15 December 2020
Episode 137/3680
Ingrid confronts At about what Piet is busy with, while Tertius is unsure about Annelize's plans. Greeff asks Tracy about Maya, and Annelize sows doubt with Ingrid. Julia's operation makes Hugo nervous, while the content of an interview ruffles a lot of feathers.
Wednesday 16 December 2020
Episode 138/3681
Christmas decorations are probably not Elana's strong point. Annelize's decisions don't get the desired support – while an idea is taking shape with Conrad regarding getting rid of her. Chanel is sceptical about Tracy's new focus, and Elana and her brother can't seem to bury the hatchet.
Thursday 17 December 2020
Episode 139/3682
Ingrid's growing suspicions worry Conrad, but it is not going to deter him from his plan. Elana realises what the problem is with the Christmas decorations, and Greeff thinks he knows what Tracy's agenda is.
Steve talks to Elana about 'the perfect Christmas', while a call leads to an argument between Tracy and Greeff. Annelize prepares Wessel for an important meeting, an Maya comes to the wrong conclusion.
Friday 18 December 2020
Episode 140/3683
Elana plans a surprise for the kids. Lexi finds out what is going on with Ruan, and Conrad discusses the finer details of his plan – and not just with Piet! Tertius receives shocking news. Tracy finds out what happened to Greeff, while Annelize is irritated with Ingrid's sudden concern.
---
Monday 21 December 2020
Episode 141/3684
The gingerbreadhouse's construction is not the only surprise in Steve's penthouse, while everyone hears about the accident. Tertius introduces Wessel to Rian, and Maya is not convinced that there isn't something going on between Tracy and Greeff.
Ingrid is not the only one that has her doubts about the accident. Tracy wonders about the person on the other side of the line…
Tuesday 22 December 2020
Episode 142/3685
Elana is not impressed with Conrad's plan with  Helena – and less impressed with At's gesture. Tracy is frustrated with Greeff, and Conrad wonders if Piet worked on his own accord. Rian shows interest in Wessel and Annelize's business, while At plays open cards with Ingrid.
Wessel is growing weary of the Kosters – and Annelize is shocked in his request.
Wednesday 23 December 2020
Episode 143/3686
Steve encourages Elana to be a bit more adaptable, and Wessel asks Tertius for assistance with Annelize. Elana and Conrad have another falling out – and shortly after Tracy talks out of turn. An invite for Christmas Eve leads to an honest confession, and Helena's observations concern Elana further.
Thursday 24 December 2020
Episode 144/3687
Rian tells Tertius about his meeting with Wessel. Helena gives Elana perspective on this Christmas, and Maya convinces Greeff to spend Christmas Eve with Tracy. Conrad asks At about his plans for the future, and Tertius's contribution to the night almost gives Annelize a heart attack.
Friday 25 December 2020
Episode 145/3688
Maya is stunned by what Tracy tells her, and Vicky is eager to perform her concert – with help. Wessel is ready to hit the road, while At still has the capacity to leave Ingrid breathless. Conrad is informed about a new challenge that might end his plan, and Tracy pays a lonely soul a visit.
---
Monday 28 December 2020
Episode 146/3689
One call could change Annelize's life, and At makes Ingrid think twice about an answer. Helena and Elana disagree about where Elana's priorities should be – and then something happens that brings out Ruan's true colours. Wessel is forced to change his plans again, and Tracy ensures that Elana sees her heart.
Tuesday 29 December 2020
Episode 147/3690
Tracy wonders if Conrad is still interested in her, and Helana talks to Ruan about his feelings. A present with a weird note leads to a lot of thinking and research, while Wendy words her concerns about Koos to Tertius.
Rian needs help in executing his plan with Annelize, while it seems like Tracy has more stability in her life.
Wednesday 30 December 2020
Episode 148/3691
Tertius wonders why Rian is looking for Annelize, and Elana discusses her frustrations with Julia. Helena begins to ask uncomfortable questions regarding Elana and Conrad's relationship, while more than one person realises that something is wrong with Annelize.
Danny forces Tertius to talk to a girl in DOEPA, and Conrad tells Elana about Helena's request.
Thursday 31 December 2020
Episode 149/3692
Louis has good news for Tertius, and Annelize doesn't want anyone's help with her plan. Elana has a huge falling out ith Helena, and ER gets swamped on Old Year's Eve. Conrad has a prerequisite for his 'generosity', and Rian doesn't see the New Year in on his own…
---
Premiere episodes of Binnelanders air on kykNET Mondays to Fridays at 19h30. The omnibus airs on kykNET on Saturdays from 09h30.