Begeertes Teasers – March 2021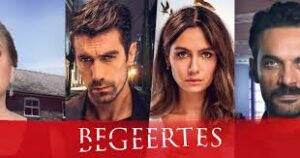 We (keportal Team) pleased to inform you about Begeertes Teasers – March 2021
Monday 1 March 2021
Episode 71
Namik is told he needs to pay for the damage done. Everyone finds out that Asli's pregnant. Taking Yigit's advice, Ferhat accompanies Asli to the hospital to hear their baby's heartbeat.
Tuesday 2 March 2021
Episode 72
Idil tells Cuynet that Namik's the one who killed Azad's wife. Julide tries to seduce Namik, which is met with threats from Idil. Ferhat tells Asli that the gun used on Cem wasn't Cuynet's. Yigit is shot.
Wednesday 3 March 2021
Episode 73
Asli has a pregnancy scare and is told to take time to rest. Namik tells Ferhat that someone in the house has been talking to Cuynet. Scheming with Namik, Cuynet decides to get rid of Azad.
Thursday 4 March 2021
Episode 74
Ferhat catches Vildan talking to Cuynet. Yeter finds out about Azad's death and receives his last letter to her. Julide tells Asli the truth of Ferhat and Vildan's past.
Friday 5 March 2021
Episode 75
Ferhat apologises to Asli and they decide to start a new life together. Cuneyt threatens Vildan. Ferhat tells Namik that he is leaving. Cuynet shows up by the house and Ferhat gets upset. Julide exposes the truth about Vildans daughters father.
---
Monday 8 March 2021
Episode 76
Cuneyt moves back into the house, but Ferhat tries to make him leave. Julide tells Ferhat, Cuneyt, and Vildan that Ferhat is Ozge's father. Vildan struggles to come to terms with this fact and starts drinking again.
Tuesday 9 March 2021
Episode 77
Julide keeps whispering ideas to Vildan, and continues to stir the pot. Cuneyt teams up with Idil, and blackmails Gulsum, once again. Ferhat finally gets the test results.
Wednesday 10 March 2021
Episode 78
Abidin discovers that Gulsum has been secertly meeting with Cuneyt, and he decides to hide the fact from Ferhat. Yigit gets closer to finding out the truth about his father's death. Ferhat and Asli go on a wild goose chase around town to satisfy her pregnancy cravings.
Thursday 11 March 2021
Episode 79
Asli finds a suspicious envelope in her room. Asli seems quite hostile toward Julide.Yigit and Namik seem as if they are up to something behind Ferhat's back.
Friday 12 March 2021
Episode 80
Cuneyt gets caught up in Julide's mess as she comes face to face with Idil. Ferhat and Asli try and figure out what exactly Julide is up to. Yigit is still busy with Namik behind Ferhat's back.
---
Monday 15 March 2021
Episode 81
Cuneyt's dark side comes out against Vildan, leading her to take drastic measures but can Ferhat and Asli save her before it's too late. Ferhat also delivers Asli some news that may end their relationship for good.
Tuesday 16 March 2021
Episode 82
Ferhat's investigation takes a hit as his key witness is shot. Asli struggles to come to terms with Ferhat's revelation but Ozge finds a way to make her feel better.
Wednesday 17 March 2021
Episode 83
Asli seems immediately uninterested in Ferhat's kind gestures toward her. Does she feel the need to let him go?
Thursday 18 March 2021
Episode 84
Ferhat is questioned by the police. Asli helps Yusuf escape. Ferhat and Asli's fairy-tale is finally over as she makes her decision to leave. Mute proposes to Hulya and she leaves the house.
Friday 19 March 2021
Episode 85
Thanks to Julide and Vildan's plans, Asli is adamant about leaving Ferhat for good. Cuneyt has an encounter with Gulsum and a gun, while Handan thinks it's time to secure Abidin's future as head of the company.
---
Monday 22 March 2021
Episode 86
Abidin and Gulsum have Cuneyt's confession. Mute and Hulya get married. Asli tells Ferhat they're having a son, and Gulsum is onto Julide and her lover.
Tuesday 23 March 2021
Episode 87
Asli is stabbed by Serkan. Ferhat, determined to find the man who stabbed his wife, finds him with Yigit. Yigit tells Ferhat that the reason he's been protecting the boy is because his grandmother was to testify against Namik for the death of their father.
Wednesday 24 March 2021
Episode 88
Ferhat is determined to find Namik and get his revenge. Yigit begs Asli to keep an eye on him. Gulsum lashes out at Ferhat, blaming him for making them live with the man who killed their father. Telkin agrees to help Ferhat find Namik.
Thursday 25 March 2021
Episode 89
Gulsum tries to get some space from the drama at home, but will the place she's picked bring her even more drama? Asli faces increasing pressure to betray Ferhat.
Friday 26 March 2021
Episode 90
Gulsum can tell Yeter is hiding something. Julide goes to Cuneyt for help. Ferhat takes Asli on what appears to be a romantic getaway, but can they stay in their happy bubble for long?
---
Monday 29 March 2021
Episode 91
Ferhat struggles with the truth of who his real father is. Julide is on edge as the truth of Idil's disappearance rises to the surface. Namik calls upon Cuynet to help him in his time of need. Gulsum confides in Abidin with regards to the fear of her mother's illness.
Tuesday 30 March 2021
Episode 92
Gulsum digs deeper into Yeter's secret and she doesn't like what she finds. Meanwhile, Asli and Ferhat help Mustafa and Hasret as much as they can.
Wednesday 31 March 2021
Episode 93
Julide trys to kill Asli. Ferhat and Yeter argue about the past. Cuneyt is arrested and Namik escapes with half the money. Handan thinks Yeter stole the money.