Begeertes Teasers – January 2021 Episodes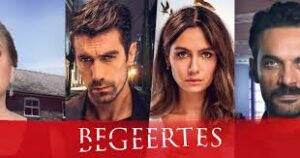 Friday 1 January 2021
Episode 30
Abidin finally takes his life into his own hands now that he knows the truth about his "son", the only question is; will Safiye survive what he has in store for her?
---
Monday 4 January 2021
Episode 31
Both Asli and Ferhat have a choice to make; Ferhat needs to choose between his family or Asli while Asli must choose whether to tell Ferhat about his real father.
Tuesday 5 January 2021
Episode 32
The police come knocking looking for Abidin, do they think he had anything to do with Safiye's murder? And will Ferhat ever open up to Asli again?
Wednesday 6 January 2021
Episode 33
Ferhat makes his final decision, but what does that mean for Asli? Is it enough to stop Namik from coming after her?
Thursday 7 January 2021
Episode 34
Are things really over between Ferhat and Asli? As she tries to wrap her head around her feelings Asli does something she cannot undo.
Friday 8 January 2021
Episode 35
Asli struggles with her feelings for Ferhat and questions whether she should've messaged him about Namik.
---
Monday 11 January 2021
Episode 36
Can Ferhat save Asli from another attempt on her life? And will he survive what Cuneyt has in store for him?
Tuesday 12 January 2021
Episode 37
Tensions rise as the race is on to prove Ferhat's innocence, or guilt. Will the family be able to hold up under the preassure?
Wednesday 13 January 2021
Episode 38
Asli and Ferhat finally discover the identity of Sahin's daughter, but is it too little too late? Or will they put an end to this family for good?
Thursday 14 January 2021
Episode 39
Yigit turns himself in for shooting Ebru. Ferhat works to get him released without alerting Suna. Ferhat meets the mysterious Mr. Ayhan.
Friday 15 January 2021
Episode 40
Ferhat is determined to get Yigit out of prison. Asli is confronted by her boss due to her absence at work. Things are shaky at home as Vildan announces she wants a divorce.
---
Monday 18 January 2021
Episode 41
Suna finds out that Yigit is in prison. Namik and Idil make a big announcement which shocks the family. Cuneyt's jealousy gets the better of him and lands him in hot water.
Tuesday 19 January 2021
Episode 42
Yigit is released from prison. Ferhat finally professes his love to Asli while Namik gets shot at by a mysterious person while preparing to attend his own wedding.
Wednesday 20 January 2021
Episode 43
The hunt is on for Namik's shooter. If Asli knows who it is why won't she tell anyone?
Thursday 21 January 2021
Episode 44
Will Namik give up his shooter? What is the big secret Handan finds out about Gulsum and Abidin?
Friday 22 January 2021
Episode 45
News about Kalim being Gulsum's son puts more strain on the tense family relations. How will Gulsum, Yeter, and little Kalim overcome this hurdle?
---
Monday 25 January 2021
Episode 46
Ferhat consults Ayhan about divorcing Asli. Cuynet, determined to pove himself to Namik, tells him that he'll stop at nothing to find his shooter. Asli offers Gulsum the chance to stay at her family's home instead of having to leave to Bolu. Abidin, in a moment of passion, proposes to Gulsum, but is met with rejection.
Tuesday 26 January 2021
Episode 47
Azad seeks out the murder of his wife. Does Ferhat reconsider divorcing Asli? Abidin wants to marry Gulsum and is prepared to face the possibility of being killed by Ferhat.
Wednesday 27 January 2021
Episode 48
Gulsum agrees to marry Abidien and this causes Ferhat and the family to fly into a fit pf rage. Yeter is contacted by Azad. Ayhan receives a letter from someone claiming to know how her mother really died. Asli ends up leaving Ferhat.
Thursday 28 January 2021
Episode 49
Asli and Ferhat end up in a car accident but are found by an older woman and her daughter-in-law. Idil fakes a miscarriage to ensure Namik doesn't kill her for getting the abortion. Gulsum and Abidin arrive at Yigit's house to ask for his blessing, which he gives.
Friday 29 January 2021
Episode 50
Alsi deliver's Gulsen's baby and we see a softer side to Ferhat. Namik is furious with Yeter and sends her to Bolu, but Azad steps in.
---
Premiere episodes of Begeertes air on eExtra from Mondays to Fridays at 20h30.