Begeertes Teasers – February 2021 Full Episodes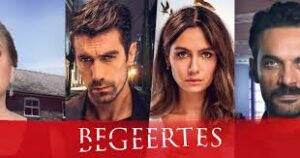 Monday 1 February 2021
Episode 51
Ferhat and Asli decide to take some time to themselves. Namik orders Cuynet to have Asli and Ferhat killed. Gulsum and Abidin finally get married. Azad offers Yeter the chance to stay with him and his daughter.
Tuesday 2 February 2021
Episode 52
Ayhan and Azad plant a listening device in Namik's office, allowing them to be one step ahead of Cuynet and protect the couple. Yeter has taken up Azad's offer to live with him. Ferhat finally has accepted Abidin and Gulsum's marriage and Cem turns his back on Asli.
Wednesday 3 February 2021
Episode 53
Cuneyt puts his plan to kidnap Ozgur into action. A shaken Yigit needs Ferhat's help. Vildan tries to be supportive with Gulsum, however Gulsum is visibly struggling with keeping her baby's real father's identity a secret.
Thursday 4 February 2021
Episode 54
Asli is released by her kidnappers, but Ozgur is kept for ransom. Ayhan confronts Azad with regards to the mysterious note she received. While checking the building Cem finds Cuynet who shoots him in the chest.
Friday 5 February 2021
Episode 55
Yigit gets Ozgur back. Will the assassination attempt on Cem be successful? Namik threatens Cunyet's life for his money and Ayhan goes missing.
---
Monday 8 February 2021
Episode 56
Asli mourns the death of her brother. Ayhan finds out about Azad's secret. Farhat, Yigit, and Cuneyt are on a mission to find the bag of money. It's a race to see who gets it first.
Tuesday 9 February 2021
Episode 57
Yeter is arrested for attempted murder. Asli is still reeling from the death of her brother, Cem. Yeter confesses the truth about who Ferhat's real father is. Azad finds a note from Ayhan saying she will get her revenge on him for taking her mother away from her.
Wednesday 10 February 2021
Episode 58
A hit is put on Ferhat, Asli and Namik. Yeter tells Namik that she revealed the truth about him being Ferhat's father to Yigit. Cuynet planned the attacks so he could take over. Azad finds the man who gave the statement against Yeter and forces him to retract it.
Thursday 11 February 2021
Episode 59
Asli is still trying to cope with her brother's death. Yigit is torn between telling Ferhat about who his real father is. Yeter is released from prison and decides to find out the truth about Idil's "miscarriage". Namik is trying to find out who attacked his house last night.
Friday 12 February 2021
Episode 60
Ferhat finds out that Cuynet is behind the shootings. Yigit tells Asli that the man who shot Sihan is probably the same man who shot her brother. Idil tries to convince Handan that Yeter is lying about her having an abortion. Cuynet confronts Gulsum about his love for her.
---
Monday 15 February 2021
Episode 61
Asli realises that Cuynet is behind everything. What does she do? The hunt is on for Cuynet. Idil is still bitter about the relationship between Namik and Yeter.
Tuesday 16 February 2021
Episode 62
Yeter gets the upper hand on Idil. Cuneyt is still in hiding. Life only gets harder for Asli, leading her to make a difficult choice.
Wednesday 17 February 2021
Episode 63
Asli leaves with a few friends to clear her head. Ferhat finds out where she is and decides to meet up with her. Idil is suspicious of Yeter and follows her. Namik gives Cuynet money to leave. Azad ends up kidnapping Cuynet and torturing him. Ferhat tells Asli they should get divorced.
Thursday 18 February 2021
Episode 64
Idil catches Yeter and Azad in a compromising position. Namik and Idil discuss their future. Ferhat and Asli are still undecided as to whether they'll go through with the abortion and divorce, with Ferhat dealing with his personal fears of becoming a father.
Friday 19 February 2021
Episode 65
Asli and Ferhat seem very conflicted. Asli calls her doctor to make an appointment. Namik has an announcement to make.
---
Monday 22 February 2021
Episode 66
Cuneyt schemes with Gulsum to get to Namik. Ferhat and Asli's plan to divorce is revealed to everybody, and Asli checks in to the hospital to get her pregnancy terminated. Ferhat has second thoughts about being a father and tries to catch up with Asli.
Tuesday 23 February 2021
Episode 67
Asli decides to keep the baby without letting Ferhat know. An unexpected family member rocks up on Asli's doorstep.
Wednesday 24 February 2021
Episode 68
Cuneyt finds allies in unexpected places in his mission to bring Namik down. Asli struggles to reconcile the brother she knew with the one who would abondon their niece without telling her.
Thursday 25 February 2021
Episode 69
Yigit spies on Namik and Ferhat's business meeting. Asli goes for her first ultrasound and chooses to keep her baby. Abidin is still reeling from the conflict between him and Gulsum. Julidie fakes a break in. Asli and Ferhat sign their divorce papers.
Friday 26 February 2021
Episode 70
Asli is able to convince Ferhat not to go through with the operation. Namik is upset because they've been threatened. Gulsum tells Yeter that Abidin knows Cuynet is the father of her son. Julidie confronts Namik on their past. Asli is still going through with the divorce.