Begeertes Teasers – April 2021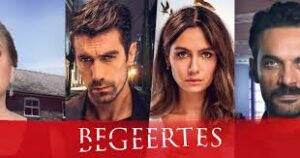 We (keportal Team) pleased to inform you about Begeertes Teasers – April 2021
Thursday 1 April 2021
Episode 94
Julide makes a decision that could cost everyone. Gulsum suspects Yeter and Abidin are keeping something from her. Asli is rushed to the hospital. Will she and the baby make it out all right?
Friday 2 April 2021
Episode 95
Yeter agrees that it's time to move out of the house to live with Yigit. Namik finds out from a kidnapped Julide that Yeter is terminally ill, and he rushes to her side to convince her to elope. Ferhat surprises Asli with a beautiful dinner to propose and the two begin painting their baby's room.
---
Monday 5 April 2021
Episode 96
Series finale!
Asli and Ferhat finally get the wedding they wanted, but Namik ruins the night. Yeter agrees to help turn in Namik, but it turns dark as Namik tries to take his and Yeter's lives. Gulsum shares that she and Abidin are also expecting.
---
A new Afrikaans-dubbed, Turkish novela Stilletto Vindetta replaces Begeertes once it ends.