Battleground Teasers – December 2020 Episodes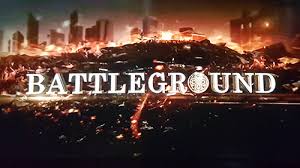 Friday 18 December 2020
Episode 42
Mayowa is suspicious of everyone, particularly Oyiza. The media makes comparisons between Adaora and Cissy. Emeka has concerns about his father's dealings. Dr. Kalu seeks legal counsel.
Episode 43
Emeka acts on his suspicions. Moshood loses patience with Hosu. Adaora comes face to face with her nemesis, Cissy. And Oyiza proves to be untrustworthy.
Saturday 19 December 2020
Episode 44
Emeka unwittingly hands Cyril some crucial information. Hadiza gets a severe warning from Danlami. Seth continues his attempts to blackmail the family. Emeka stumbles on a secret.
Episode 45
Mayowa solves the blackmail problem. Hadiza convinces Cissy of Adaora's guilt. And doctor Kalu has something to confess to Emeka. Peter decided to get Michael help.
Sunday 20 December 2020
Episode 46
Cyril has a conflict of choice. Ayo discovers the General's relationship with Cyril. Cissy reads Dr. Kalu the riot act. Teni assures Sandra it's over between her and Emeka.
Episode 47
The General gives Cyril an order and helps Ola make up his mind. Danlami and Mayowa bond. Hadiza is not pleased. Ola goes to Lara for help. Cyril decides Emeka is his rival.
---
Monday 21 December 2020
Episode 48
Teni pays Emeka a visit and makes a difficult request. Folake taunts Ayo over Teni's success. Ayo has a plan that involves Cyril. Mayowa takes Sophie's advice. Michael goes missing.
Episode 49
Emeka, driven to jealousy, does something he regrets. Lara extends offers to both Ola and Ejiro. Danlami gives Mayowa a challenge. Ayo's plan to upstage Teni doesn't go well.
Tuesday 22 December 2020
Episode 50
Ayo becomes the butt of jokes. Lara shows her hand and puts Ejiro on the spot. Cyril sees through Ayo's scheme. Lara gives Ola some backstory. Mayowa makes Danlami a promise.
Episode 51
Mayowa makes some claims on TV and asserts himself at BBP. Ayo goes into competition with Mayowa. Hadiza wants Danlami to rein him in. Doctor Kalu is forced to make a decision.
Wednesday 23 December 2020
Episode 52
Ayo pays The General a visit. Dr. Kalu tries to prepare Adaora for what is coming. Ayo and Mayowa face off in the bid to get Cyril's account.
Episode 53
The household staff grapple with Adaora's departure. Sophie's reassurances make Onajite uncomfortable. Ola expresses a clear interest in Lara. Danlami finds himself having to court Ejiro.
Thursday 24 December 2020
Episode 54
Lara expresses her disappointment in Ayo. Ejiro disappears and Danlami fears the worst. Hadiza is displeased with Mayowa's popularity at BBP.
Episode 55
Mayowa celebrates his victory but it ends badly. After a brief victory, BBP hits another road bump. Cyril warns Ayo about the General. Cissy takes Ola's social life in hand, invites Lara over.
Friday 25 December 2020
Episode 56
Mayowa has a very anxious day, worrying about the girl he dumped. Cyril is arrested while Mayowa is questioned by the Police.
Episode 57
Ejiro learns the hard way. Mayowa is frantic about Keisha's fate. Ayo attempts to blackmail Mayowa. The General's partners go to Cyril with a plea for help and a warning.
Saturday 26 December 2020
Episode 58
Cyril learns that the General takes disloyalty seriously. Danlami gets the better of Lara once again. Cyril almost betrays a friendship due to jealousy. Lara has some very harsh words for Ola.
Episode 59
A letter comes from Kolade through Okiemute and Mayowa is incensed. Ayo discovers who leaked her photos of Mayowa. Emeka and Cyril come to blows. Sophie's desperation drives her to Danlami.
Sunday 27 December 2020
Episode 60
Mayowa vents his pent-up frustrations on a comatose Kolade. Dr Kalu proceeds to ease Kolade out of coma. Emeka makes a startling discovery and confronts doctor Kalu, this time with facts.
Episode 61
After Chief Kolade Augustus Bhadmus suffers a heart attack, secrets about his life begin to unravel. However, family, will, love and destiny must unite to survive.
---
Monday 28 December 2020
Episode 62
Dr Kalu questions Nurse Oyiza's judgment. Mayowa finally discloses the CCTV cameras. Cissy tries to see Kolade. Hadiza needs to stop Steve before he walks into a trap.
Episode 63
Steve shows he has impeccable instincts. Chichi finally discovers Hosu's secret. The first family have a group therapy session. And Mayowa surprises everyone with his meltdown on TV.
Tuesday 29 December 2020
Episode 64
The Family continues a vigil on Chief's waking. Adaora makes a decision about the CCTV cameras and is surprised by Mayowa's easy acquiescence.
Episode 65
Steve's body is found. Ejiro exhibits more disloyalty. Ola and Ayo recruit Danlami to deceive their mother. Teni rails at Cissy's continued intrusion.
Wednesday 30 December 2020
Episode 66
The family worry about Kolade. Adaora is afraid to approach Kolade, then she receives a surprising reception from Kolade. Cissy is disappointed at her children's betrayal.
Episode 67
The second family receive news of Kolade's waking. The General reassures his partners he means them no harm. Kolade makes a request that enrages Adaora.
Thursday 31 December 2020
Episode 68
Michael's whereabouts remain a mystery. Ola gives Cissy sound advice about her engagement with Kolade. Cissy states her conditions to Dr. Kalu.
Episode 69
Mayowa discovers Jayson's duplicity. Teni confronts Peter about Michael's whereabouts. The staff conjecture about Kolade's selective amnesia.
---
Battleground airs on Novela Magic from Mondays to Sundays at 20h00 and 20h30 with repeats throughout the day.