Battleground Teasers – April 2021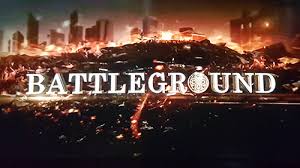 We (keportal Team) pleased to inform you about Battleground Teasers – April 2021
Thursday 1 April 2021
Episode 181
Hadiza receives news of Danlami's accident. She wants blood. Sola finds herself penniless. Okiemute finds out what Collins has over Sophie. Teni rethinks the sale of the hospital.
Friday 2 April 2021
Episode 182
Adaora gets wind of Onajite's pregnancy. Teni's decision about the sale of the hospital angers Kolade. Hadiza proposes Danlami make peace with the Bhadmuses.
Saturday 3 April 2021
Episode 183
Kolade's 'apology' to Kolade does not go quite as expected. Adaora confronts Kolade about Onajite's pregnancy, then she asks Onajite. Sophie needs Kolade's help with a missing girl.
Sunday 4 April 2021
Episode 184
Adaora invites Emeka to dinner. Hadiza offers to be at the forefront of her and Danlami's takeover plans. Kolade invites Collins over for a business meeting.
---
Monday 5 April 2021
Episode 185
Kolade tries to talk to his family – meets a brick wall everywhere. Collins visits Kolade; the visit is a surprise. Nwosu needs the staffs' help with something. Where is Kolade off to?
Tuesday 6 April 2021
Episode 186
Okiemute is worried about Kolade's whereabouts. Adaora and Teni receive anonymous gifts. Sophie queries Okiemute about Collins' visit. Emeka and his father quarrel. Ola gets abducted.
Wednesday 7 April 2021
Episode 187
Kolade explains his abduction of Ola. Onajite takes matters into her own hands. Teni continues to try for Emeka's forgiveness. Moshood discovers Onajite's secret.
Thursday 8 April 2021
Episode 188
Moshood's family is under attack. Onajite tries to explain things to Moshood. Danlami gives Moshood cause to doubt Kolade. Onajite and Nwosu announce their engagement.
Friday 9 April 2021
Episode 189
Moshood is hesitant about signing the document. Adaora decides on her wedding gift. Staff start planning the wedding. Emeka tells Teni his final word on their relationship.
Saturday 10 April 2021
Episode 190
Adaora continues her plans for the wedding, amid Sophie's displeasure. Teni's plans to make Emeka jealous go awry. Dr. Kalu makes her appeal. Kolade orders a hit on The General.
Sunday 11 April 2021
Episode 191
Kolade and Okiemute wonder what prompted The General's escape. Nwosu tries to make future arrangements Teni confronts Kolade about his role in her and Emeka's breakup.
---
Monday 12 April 2021
Episode 192
Sophie presses her offer to 'do' something about Onajite's pregnancy. Teni changes right before our eyes. Kolade plans to kidnap Cyril. Onajite decides to make a confession.
Tuesday 13 April 2021
Episode 193
Cyril runs scared of Roman. Chichi resents Adaora's usurping her wedding planner role. Adaora wishes to speak with Onajite's mother. Sophie offers her services to Teni's business.
Wednesday 14 April 2021
Episode 194
Roman freaks Cyril out. Teni hires a manager for her business. Sophie decides to tell Adaora the truth about Onajite. Danlami and Hadiza finally achieve success.
Thursday 15 April 2021
Episode 195
Nwosu's men worry about their jobs. Bassey is revealed to be terminally ill. Onajite tries to come clean to Nwosu about the pregnancy. Sophie takes matters into her own hands.
Friday 16 April 2021
Episode 196
Kolade hears about Teni's past abortion. News of MLA new majority shareholder swoops in. Moshood intervenes for Onajite – again. Cyril makes an unsettling discovery about himself.
Saturday 17 April 2021
Episode 197
Moshood has to explain how Danlami acquired the shares. Tanko comes to Hadiza with a proposal. Teni is not pleased about her past being exhumed. Kolade pays Emeka a visit.
Sunday 18 April 2021
Episode 198
Cyril saves the day. Sophie wonders about Onajite's continued good health despite the poisoning. Ola pays Kolade a visit. Onajite receives an Nwosu family heirloom. MLA has a new CEO.
---
Monday 19 April 2021
Episode 199
Abiks gets on the scent of a past vaccination scandal. Okiemute digs into Hadiza's past. Onajite prepares to meet Nwosu's family. And finally, victory for the Kalus.
Tuesday 20 April 2021
Episode 200
It's finally the day of the wedding. Bassey visits the mansion Kolade gives Onajite an expensive gift. Mayowa and Hosu return. Adaora makes a startling realization.
Wednesday 21 April 2021
Episode 201
Onajite hesitates to go ahead with the wedding. Adaora reacts to her discovery of the paternity of Onajite's baby. A fatal accident occurs. Abiks visits Dr. Kalu.
Thursday 22 April 2021
Episode 202
Kolade tries to force a dialogue with Adaora. Abiks offers to meet with Emeka. The staff blame Onajite for their impending misfortunes. Nwosu and Onajite suffer a tragic loss.
Friday 23 April 2021
Episode 203
Abiks reveals the story she is researching to Emeka. Emeka confronts Dr. Kalu about the scandal. Mayowa gets a surprising job offer. Adaora reacts to news of the miscarriage.
Saturday 24 April 2021
Episode 204
Teni and Mayowa set about ensuring the loan repayment. Danlami and Kolade receive farm produce that sends them on a journey of reminiscing. Abiks get her exclusive – but she has an agenda.
Sunday 25 April 2021
Episode 205
Teni confronts Onajite. Onajite confesses the truth to Nwosu. Adaora hits Kolade where it hurts. Sophie is unhappy about this. The staff discuss visiting Onajite. A shocking crime occurs.
---
Monday 26 April 2021
Episode 206
The Bhadmus family reacts to the shooting – but there's more. Danlami has cause to suspect Hadiza. The Kalus argue about helping the Bhadmuses. Then they receive an unsettling update.
Tuesday 27 April 2021
Episode 207
Everyone reacts to Kolade's abduction and disagree on whether or not to accede to the kidnappers' demands. Adaora upset by Ola's presence. Nwosu is determined to have Onajite discharged
Wednesday 28 April 2021
Episode 208
Mayowa angered by Ola's presence. Nwosu finds a spent bullet shell. Danlami confronts Hadiza on her slipup. The staff has their suspicions about Nwosu's men. Cyril's demeanor is explained.
Thursday 29 April 2021
Episode 209
Ola and Okiemute have a suspect. Vyhutu has her eye on Onajite's position. Teni asks Bassey to replay his movements on that fateful night. Bassey's reply to Teni's request shocks her.
Friday 30 April 2021
Episode 210
Things finally come to a head between Mayowa and Ola. Dr. Kalu finds himself considering an unethical option. Okiemute approaches Dr. Kalu about the DNA tests. Onajite visits Adaora.