Battleground Teasers – February 2021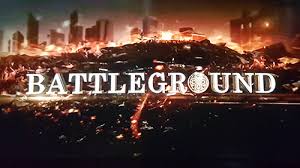 Monday 1 February 2021
Episode 122
Affected parties continue to grapple with the fallout of the shooting as the blame game begins; Adaora has a confession for Danlami. And the General tells Kolade he did kill his child.
Tuesday 2 February 2021
Episode 123
The search for Mayowa begins. Kolade finally understands The General's cryptic claim. Teni receives the shocking news of the shooting. And Cyril gets in trouble with The General.
Wednesday 3 February 2021
Episode 124
Cyril calls the general's bluff. Michael makes a decision regarding his father. Kolade receives an unusual visit. Ola and Kolade discuss Lara. Cissy makes a heartfelt appeal to Kolade.
Thursday 4 February 2021
Episode 125
Adaora tries to decipher Hadiza's cryptic words. Adaora sets Emeka a challenge. Nwosu receives disturbing news concerning Mayowa.
Friday 5 February 2021
Episode 126
Mayowa turns himself in with a confession. Ayo hears the truth about her filial relationship with Lara. Teni is in fear for Mayowa's life.
Saturday 6 February 2021
Episode 127
Mayowa finally makes the phone call. Sandra brings Teni news of Michael's leaving. Cyril visits Ayo but gets a shocker. Emeka has a surprising favor to ask of Kolade.
Sunday 7 February 2021
Episode 128
Adaora and Teni revel in the news that Mayowa's safe. Ola commences plans to move Cissy away. Kolade refuses but Ayo holds the winning card. Kolade reacts to Mayowa being found.
---
Monday 8 February 2021
Episode 129
Cissy's declaration shocks everyone. Emeka and Teni ask for Adaora's blessing. Cissy and Kolade say their goodbyes. Hadiza and Mayowa have a bonding moment.
Tuesday 9 February 2021
Episode 130
Danlami is mandated to get Mayowa to return home. Adaora receives a friend and Onajite acts strangely. Mayowa comes to the hospital and Ola welcomes him in an unexpected way.
Wednesday 10 February 2021
Episode 131
Is Dr. Kalu's promotion of Emeka as innocent as it seems? Teni and Mayowa find out about Lara's death. Hadiza tries to find out what Danlami is up to.
Thursday 11 February 2021
Episode 132
Emeka is not too excited about his promotion. Okiemute visits Mayowa with a letter. Nwosu tries to get close to Onajite. Dr. Kalu's gesture to Sola raises questions.
Friday 12 February 2021
Episode 133
Mayowa's allergic reaction causes alarm bells to go off in Hadiza's brain. Okiemute has Moshood sign some documents for Kolade. Dr Kalu leaves Emeka with some sobering words.
Saturday 13 February 2021
Episode 134
Danlami is upset with Hadiza. Onajite gives Nwosu a direct answer to his overtures. Hadiza discourages her relative from giving Danlami a loan. Kolade tells Teni something shocking.
Sunday 14 February 2021
Episode 135
Teni reacts to news that Lara was her sister. Hadiza is on a fact-finding mission that involves Mayowa's personal effects. Onajite receives a gift. Kolade has a new plan.
---
Monday 15 February 2021
Episode 136
Kolade has a new plan to force Mayowa home. Chichi continues her attempts to foil Onajite and Nwosu's romance. Emeka worries about Sola's homelessness. Mayowa bids the Bakos farewell.
Tuesday 16 February 2021
Episode 137
Mayowa's disappearance has everyone on edge. Teni finds out about Emeka's houseguest. Sola and Cyril meet. Chichi incites a rumor about Onajite.
Wednesday 17 February 2021
Episode 138
Okiemute calls Kolade out on his plan to assassinate The General. Chichi struggles to answer Onajite's query. Okiemute receives an invitation from The General.
Thursday 18 February 2021
Episode 139
Chichi gets in trouble with Onajite. Moshood suffers a panic attack. Bianca brings Hadiza some exciting inside information. Okiemute has a frightening time with The General.
Friday 19 February 2021
Episode 140
Kolade wants Mayowa brought home but Adaora disagrees. Sola's presence causes some friction between the lovebirds, Teni and Emeka. Kolade has Okiemute followed.
Saturday 20 February 2021
Episode 141
Kolade reacts to Okiemute's termination letter. Danlami's plans hit a brick wall. Chichi apologizes to Onajite. Onajite vents at Adaora. Adaora hears something suspicious.
Sunday 21 February 2021
Episode 142
Emeka struggles with his fear about possible infection. Kolade tries to broker peace with Adaora. Danlami discovers Kolade's plans to sink BBP.
---
Monday 22 February 2021
Episode 143
Danlami begins his plans to take over MLA. Kolade infuriates Adaora when he comes to Onajite's defense. Moshood signs a sensitive document. Onajite's behavior becomes increasingly strange.
Tuesday 23 February 2021
Episode 144
Emeka awaits his fate. Danlami and Hadiza continue to plot. Kolade catches wind of Danlami's plans regarding BBP. Onajite's strange behavior continues and the staff grapple to cover for her
Wednesday 24 February 2021
Episode 145
Onajite faces her moment-of-truth. Adaora upset with Danlami's move. Danlami approaches Moshood. Cyril is interested in Sola. Kolade moves to stop Danlami selling his shares.
Thursday 25 February 2021
Episode 146
Danlami deals with Kolade's blackmail. Emeka helps Cyril in his quest regarding Sola. Collins' threats to Sophie assume a new dimension. Vyhutu advises Onajite regarding the pregnancy.
Friday 26 February 2021
Episode 147
Sophie panics on receiving a strange guest. Danlami recounts outmaneuvering Kolade. Onajite approaches Adaora with an unsettling request. Adaora takes her curiosity about Lara up a notch.
Saturday 27 February 2021
Episode 148
Sola lies to Cyril about her and Emeka's relationship. Kolade asks The General's help to handle the looming crisis. Adaora goes in search of evidence regarding Lara.
Sunday 28 February 2021
Episode 149
Kolade catches Onajite and Adaora on their search for information. Emeka warns sola not to trifle with Cyril. Adaora appeals to Danlami. Sophie discovers Onajite's secret.
---
Battleground airs on Novela Magic from Mondays to Sundays at 21h30 with repeats throughout the day.