Arendsvlei Teasers – March 2021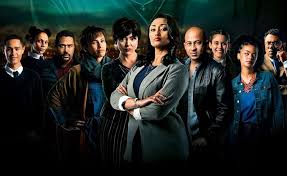 We (keportal Team) pleased to inform you about Arendsvlei Teasers – March 2021
Monday 1 March 2021
Episode 89
Beatrice is very popular at school thanks to her book, and Ronel wonders about the timing of it all. Wendy gets a dangerous new contact on her side, while Lionel urgently needs Lee-Roy's help.
Tuesday 2 March 2021
Episode 90
Wendy has a meeting with Stas, and Dorothy arranges protection for her. Debra needs to talk to Langes about what she found out but is struggling. Jake surprises Beatrice at her house.
Wednesday 3 March 2021
Episode 91
Lionel is very excited about his new audience. Angel can't wait for her birthday party. Wendy informs Dorothy what Stas wants.
Thursday 4 March 2021
Episode 92
Ronel and Beatrice are both nervous for their interviews with the School Governing Body. Yvette runs herself around in tight circles when she tries to deny that she and Hein have feelings for each other. Janice tries to calm Lionel when he is jumpy for his second comedy night show in the bakery.
---
Monday 8 March 2021
Episode 93
Angelique asks Dorothy for a favour, Candice tests the waters with Hein and Yvette, and the two principal candidates are anxious to learn who'll become principal.
Tuesday 9 March 2021
Episode 94
Lionel's third comedy night doesn't go according to plan. Ronel finds it difficult to make peace with her new reality. Dorothy and Wendy makes progress, but an invite from Stas makes Dorothy uncomfortable.
Wednesday 10 March 2021
Episode 95
It's Angelique's birthday, and Dorothy makes a huge error in judgement at the party. The sparks fly between Hein and Yvette, while Ronel considers leaving Arendsvlei.
Thursday 11 March 2021
Episode 96
Dorothy is concerned about Stas wanting them to supply girls from Arendsvlei. Things heat up between Hein and Yvette. Lee-Roy confronts Ronel about her plans which then leads Ronel to make a radical decision.
---
Monday 15 March 2021
Episode 97
Hein and Yvette share their good news with Anton and Candice. Thys is hurt by Ronel's actions. Dorothy and Wendy realise they will have to streamline their process.
Tuesday 16 March 2021
Episode 98
Janice comforts a miserable Lionel. Angelique is intrigued when she hears Candice has an online admirer. Wesley asks Anton to help him with a special occasion he wants to organize for Lee-Roy. The atmosphere between Ronel and Thys is still icy but Bea vows to stay out of the fight between them.
Wednesday 17 March 2021
Episode 99
Wesley and Lee-Roy both receive a big surprise. Janice gets a surprise visitor. Thys puts his foot down and Ronel is left contemplating. Daniel is worried, while Candice is smitten.
Thursday 18 March 2021
Episode 100
Candice can't resist her curiosity. Ronel is about to make the biggest decision of her life when an old friend pitches up to nudge her in the right direction. Lee-Roy and Wesley celebrate one of the biggest days of their lives.
---
Monday 22 March 2021
Episode 101
Dorothy and Wendy's new venture hits a big speed bump. Candice fights with Hein and Yvette about her freedom of movement, while Lionel prepares for his next big show.
Tuesday 23 March 2021
Episode 102
Candice is very excited about her date with her secret guy not knowing how things are going to turn out at the end of the night. Karelse and Krige makes plans to catch Bompie.
Wednesday 24 March 2021
Episode 103
Yvette and Hein are shocked when they realise Candice lied to them. The community of Arendsvlei is devastated after a tragedy hits them.
Thursday 25 March 2021
Episode 104
Langes shares info with Anton that upsets him. Hein thinks he knows where Candice might be. Dorothy is concerned about Angel. Beatrice gets the shock of her life.
---
Monday 29 March 2021
Episode 105
Beatrice is on her own mission, Dorothy's conscience bothers her and the rest of Arendsvlei go in search of Candice.
Tuesday 30 March 2021
Episode 106
Everyone is still looking for Candice. Beatrice receives an unexpected visitor. Jake's relationship with Bompie strengthens. Hein gets a late-night call that leaves him cold.
Wednesday 31 March 2021
Episode 107
Jake, Karelse and Krige are anxiously trying to save the kidnapped children but will they be able to do something in time? Dorothy makes a convincing, sympathetic speech at Candice's vigil and deceives everyone, but Anton remains suspicious.