Arendsvlei Teasers – February 2021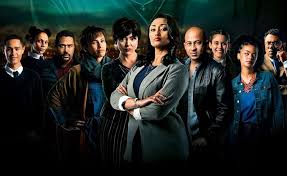 Monday 1 February 2021
Episode 73
Wesley is deeply shocked by his father's accident, and Lee-Roy tries to stand by him. Petra finds a new passion, while Daniel and Saartjie's relationship is getting attention for all the wrong reasons.
Tuesday 2 February 2021
Episode 74
Saartjie is frustrated with Daniel. Elsa and Fred argue about the past. Ronel realizes she made a big mistake.
Wednesday 3 February 2021
Episode 75
Ronel appears before the Governing Body about her error of judgment with regards to funding. Dorothy Galant makes a suggestion that has serious consequences for the Cupidos. Daniel and his team are rehearsing for his play that will be performed soon. Wesley is very agitated about Bradley.
Thursday 4 February 2021
Episode 76
The SGB'S decision shock both Beatrice and Ronel. Daniel lies to Saartjie. Lee-Roy is overwhelmed when Wesley tells him the truth.
---
Monday 8 February 2021
Episode 77
Ronel is unhappy because of her new position at the school, which leads to conflict between her and Beatrice. Wesley and Lee-Roy are both conflicted about their relationship and have to make some difficult decisions.
Tuesday 9 February 2021
Episode 78
The learners are nervous for opening night of the theatre piece. Saartjie sees something she wasn't meant to see and Bea and Ronel vow to mend their relationship, but will it work?
Wednesday 10 February 2021
Episode 79
The conflict between Beatrice and Ronel boils over, and Beatrice wants to flee. Saartjie is devastated after the most recent development in her and Daniel's relationship, while Wesley gets bad news about his dad's medical care.
Thursday 11 February 2021
Episode 80
Ronel is livid when Lee-Roy informs her of his plans. Angelique has a suggestion to make sure she and Daniel can see each other after school. Hein's story terrifies Gertie so much that she instructs Thys to sort out the mess between Ronel and Beatrice.
---
Monday 15 February 2021
Episode 81
A misunderstanding between Beatrice and Ronel leads to disagreement and tension between them once again. Beatrice encourages Saartjie to make things right with Daniel before she leaves for Johannesburg. Angelique makes a confession to Candice about Daniel.
Tuesday 16 February 2021
Episode 82
Beatrice is worried about Daniel while Lionel makes a shocking discovery. Candice and Angelique have a disagreement, and something is happening between Lee-Roy and Wesley.
Wednesday 17 February 2021
Episode 83
Arendsvlei is abuzz about the launch of Oorlewingsreis. Bompie warns Daniel about Angelique, while Lee-Roy and Wesley long for one another.
Thursday 18 February 2021
Episode 84
Daniel's curiosity gets the better of him at the Galant's house, will he get caught? Ronel and Beatrice have a fallout and the governing body has to make a difficult decision.
---
Monday 22 February 2021
Episode 85
Lionel tries to invite the matric learners to his first Comedy Night. Justus gets news about a story that shocks Daniel. Elsa is nervous about her first day at the school. Beatrice and Ronel's friendship take a drastic turn.
Tuesday 23 February 2021
Episode 86
Eloise and Gertie try their best to persuade Beatrice to claim ownership of her book. Justus gets suspicious when Daniel asks too many questions about Desmond Galant. Lionel looks forward to his interview with Joanne. Wendy and Dorothy meet in secret again.
Wednesday 24 February 2021
Episode 87
Candice brings a guest home, Beatrice wonders if she should reveal that she is Leah Cobus. Dorothy shares her plan with Wendy and will Lionel's performance be a success?
Thursday 25 February 2021
Episode 88
Lionel is dreaming big for his comedy stand-up show and does research about what the 'youth' finds funny. Beatrice has a huge moment in the public eye and gets a delicious surprise. Langes has to wrangle his way out of a nerve-wracking situation when the past comes calling.
---
Arendsvlei airs on kykNET & Kie from Mondays to Thursdays at 20h00.