Arendsvlei Teasers – Episodes for October 2020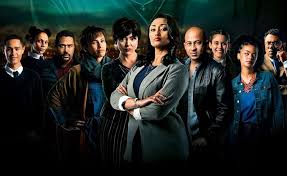 We pleased to inform you about Arendsvlei Teasers – Episodes for October 2020
Read Below
Coming up on Arendsvlei this October 2020… new episodes on Thursdays too for the new Season 3.
For the first three episodes of the season, please see the September teasers here: Arendsvlei Teasers – September 2020.
Thursday 1 October 2020
Episode 4
Thys and Ronel are at war with each other. Karelse is on an active mission to confirm his suspicions about Wendy Newman, and Debra makes a strange discovery.
---
Monday 5 October 2020
Episode 5
Thys and Ronel's relationship worsens when she has to change her plans and the family gets more and more concerned about their marriage. Anton and Monique make a big decision.
Tuesday 6 October 2020
Episode 6
Debra gets more and more suspicious about her mother's actions. Beatrice tries to ease the tension between Thys and Ronel, but only manages to make it worse. Janice is desperate for more information about the police investigation.
Wednesday 7 October 2020
Episode 7
Janice decides to take things into her own hands and asks Lionel to help. Beatrice is upset when she discovers something in Thys' office. Debra becomes more and more aware of the fact that Wendy is hiding something from her.
Thursday 8 October 2020
Episode 8
Lionel is bekommerd dat Janice oor die driffie is, Debra begin vrae vra, Ronel en Thys is albei bekommerd oor hul verhouding, terwyl Anton en Monique 'n aandete verassing beplan.
---
Monday 12 October 2020
Episode 9
Claudia makes a decision that upsets Janice. Gertie tries to give Hein advice after he complains about disturbing symptoms. Mielies warns Layla about her attraction to Bompie. Ronel and Charles have problems with Gustavo at the Groot Fees.
Tuesday 13 October 2020
Episode 10
Claudia starts her journey towards independence, much to the sadness of her family. Debra makes a shocking discovery about Wendy. A stranger walks into the bakery and saves the day for Anton.
Wednesday 14 October 2020
Episode 11
Debra visits someone in Pollsmoor prison. Krige prepares himself to move into a new house and Beatrice makes sure Sasha understands she's watching her.
Thursday 15 October 2020
Episode 12
Beatrice discovers something shocking about Hamilton. Krige and Janice get to know each other. Natalie acts suspicious and it makes Anton wonder.
---
Monday 19 October 2020
Episode 13
Anton learns the shocking truth about his new assistant. Debra makes the effort to get to know Pieter better. Thys is furious with Beatrice and confronts her.
Tuesday 20 October 2020
Episode 14
Beatrice's nerves are done and she takes it out on Petra and Hein. Anton is angry with his father after making a big decision without him. Krige and Janice find each other in the kitchen again.
Wednesday 21 October 2020
Episode 15
Anton struggles with the latest developments, Daniel has good news for Saartjie. Thys has a difficult decision to make and Debra receives shocking news.
Thursday 22 October 2020
Episode 16
Beatrice is not her usual sparkling self when she addresses the matrics before their exams. Yvette tries to fish about Natalie. Anton and Hein have a fight about Natalie. Ronel picks up problems with Gustavo and it leads to troubling consequences.
---
Monday 26 October 2020
Episode 17
Anton's not sure he can forgive Hein after he was kicked out of the house. Pieter lures Debra back to the jail. Beatrice loses her cool, and Ronel is deeply worried.
Tuesday 27 October 2020
Episode 18
Anton and Hein's lives are turned upside down once again when they get another guest. Pieter sends Pekeur to perform two tasks, but Pekeur is not looking forward to it.
Wednesday 28 October 2020
Episode 19
Beatrice gets shocking news about someone from her past and struggles to process it. Janice has a weak moment and Krige is there to help. The tension between Anton and Natalie nears boiling point.
Thursday 29 October 2020
Episode 20
Thys makes a decision that impresses Ronel. Anton is very unhappy with the latest developments in their home. Beatrice is confronted by someone from her past who sends her over the edge.
---
Arendsvlei airs on kykNET & Kie from Mondays to Thursdays at 20h00.