Arendsvlei Teasers – April 2023 Latest Episodes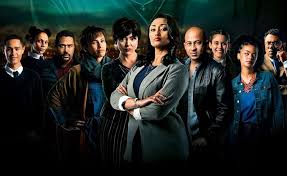 Monday 3 April 2023
Episode 109
Basil convinces Simone to start digging into Derrick's past to see if they can find evidence of previous sexual misconduct. Beatrice pleads with Rachel to get a meeting with WH&I's board so that they can know the way forward. Lennie warns Tanner to stay away from Eva.
Tuesday 4 April 2023
Episode 110
Simone gets confirmation on Derrick's past and has some difficult decisions to make. Rachel is moving forward with her plan against the Cupidos, and Anthony feels ashamed because of his involvement in all of it.
Wednesday 5 April 2023
Episode 111
Simone tries to secure proof against Derrick, but will the authorities believe her? Daniel and Saartjie butt heads, while Eva feels torn between Lennie and Tanner.
Thursday 6 April 2023
Episode 112
Ivy must finally come to terms with everything Derrick has done and face the consequences. Lionel threatens Emile to leave Janice and Ayesha alone. Eva isn't happy when Ruby and Tanner seem to take a liking to each other.
Monday 10 April 2023
Episode 113
Rachel has some upsetting news for the Cupidos. Tanner and Ruby's relationship grows, much to Eva's chagrin. Simone realises that her relationship with Cherry will never be the same. Lionel fears his relationship with Janice might be in trouble.
Tuesday 11 April 2023
Episode 114
Rachel is stepping on Beatrice's toes and Anthony does not like it. The Leigh women face an uncertain future and Saartjie becomes Daniel's temptress.
Wednesday 12 April 2023
Episode 115
Cherry says farewell to her friends. Tanner opens up to Eva. Rachel wants to see all the school's financial records. Daniel feels guilty about his night with Saartjie.
Thursday 13 April 2023
Episode 116
Thys believes Saartjie is into drugs, but how will Bianca take the news? Tanner, Lennie and Eva go out for a day of fun, but Tanner mysteriously disappears. Rachel has a new plan to sabotage the school.
Monday 17 April 2023
Episode 117
Things are going wrong at the school and Rachel increases the pressure. Daniel wants Saartjie to get help. Lionel brings up the issue of a baby and Janice has a shocking response.
Tuesday 18 April 2023
Episode 118
The running costs at Arendsvlei High keep going up. Janice regrets making Lionel the offer. Daniel gives Saartjie an ultimatum. Tanner makes a drastic decision concerning his future.
Wednesday 19 April 2023
Episode 119
Tanner's secret is revealed. Beatrice must tell the parents of the forced increase in school fees and Saartjie tries to pull the wool over Daniel's eyes, but will he fall for it?
Thursday 20 April 2023
Episode 120
Beatrice is at breaking point and Anthony is an unexpected source of support and comfort. The situation between Tanner, Lennie, and Eva reaches a breaking point when Lennie throws his brother out. Saartjie goes too far with Brommer and it results in tragedy.
Monday 24 April 2023
Episode 121
Daniel is forced to tell Bianca about Saartjie's drug problem, but will Saartjie survive the scare? Beatrice and Thys are confronted by yet another problem regarding the school's loan. Tanner asks Eva to flee the country with him.
Tuesday 25 April 2023
Episode 122
Eva and Lennie's relationship hits breaking point. Beatrice and Thys inform the teachers of the drastic measures they must take at the school. Saartjie is remorseful for what she has done.
Wednesday 26 April 2023
Episode 123
Lennie feels so hopeless without Eva that he is not even able to clean up the mess he created the previous evening. Saartjie tells Bianca she isn't a drug addict. Beatrice hears bad news from Witbooi. The bake sale kicks off from Judy's radio booth.
Thursday 27 April 2023
Episode 124
Bianca struggles getting answers out of Saartjie, Judy wants to finish the radio studio today and Beatrice gets a surprise visitor at school.